This 70.3 World Championship Race Report was put together by Ben Hokanson.  Ben has been coached at Ever Racing for the past few years.  We made it a goal this year for him to qualify for worlds for the first time.  Well, he did it!  For those who do not know Ben's story, you can check out this Runner's World article about Ben as well.
Ironman 70.3 World Championships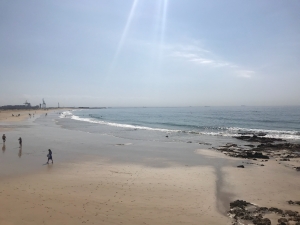 Pre Race
Where do I begin? The travel to get to South Africa is no joke. I got on a plane here in Minneapolis, MN and a mere 33 hours and three planes later I was sitting in Port Elizabeth, South Africa. You would think that would be stressful enough, but when I arrive I find out that although I am in South Africa, my suitcase is in London, England and my Bike is sitting in Atlanta, GA. This is the      moment I regret not having any extra clothes in my carry on.
So there I am on another continent, no clothes to train in, no clothes to change into, but what the heck, lets make the most of it right?
I did start looking into how I could buy or rent everything I would need to race, and prioritizing what I would need and what I could race without.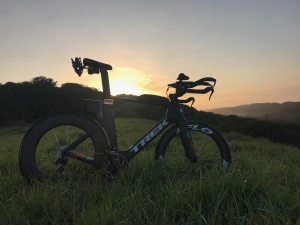 Fast forward and my bike arrives two days later, followed shortly by my suitcase. Good news right? Well, kind of, my bike arrived with the rear derailleur broken off. Luckily there was a makeshift bike shop right in Ironman Village and I got my bike in right away. And they did a spectacular job fixing it honestly, my bike has never shifted so smooth.
With my bike fixed and all my gear I got my bike checked in and went to bed early to attack the race the next day
Race Morning
Because I was staying at a place which was actually on the bike course itself and they close all the roads very early I had to wake up around 3:30 to get all my nutrition ready, get dressed and make my way to transition at Kings beach.
We are sitting in my friends van, as we were there well ahead of transition actually opening, when I looked down at my garmin and realized I had forgotten to charge it. I panicked for a moment then just logically assessed the situation. My watch certainly had enough charge for part of the race, but definitely not all of it. I don't NEED a watch for the swim, and my bike has a separate garmin on it. So I decided I would just roll with it and not start my watch until the run
The Swim
So my age group was the very first group behind the Pros, and I think the biggest age group. I am a decent swimmer so I lined up closeish to the front of my age group and got a very good view of the pro's heading off on their swim. The announcer also told us to "Race like we have trained" That gave me confidence as I sat out looking at what would be my first ever race where I run into the ocean. They start us 10 at a time after we seeded ourselves. And once they let me go I ran out into the ocean and did work. I am very tall so I ran past all the breaking waves before I transitioned to actual swimming.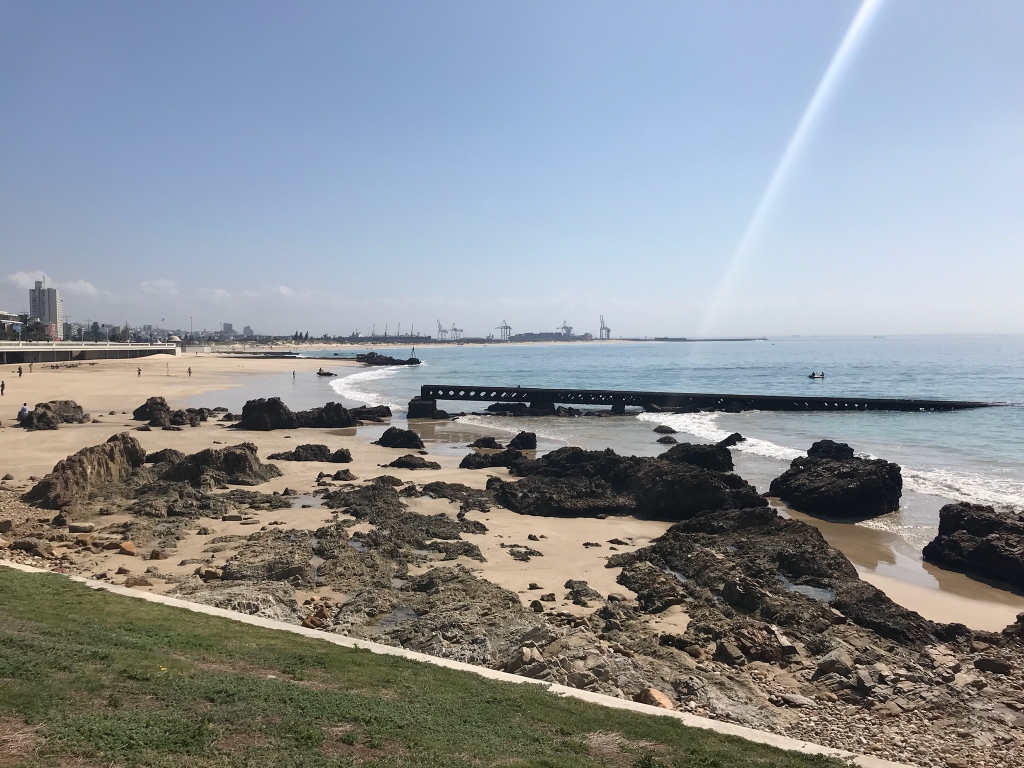 Once I got going I just did everything that Kelly and I talked about. I focused on swimming straight, staying as close as I could to the buoys, drafting when possible and focusing on my effort. Staying present in the moment. I also learned quickly to sight only when I was at the top of a swell, as sighting in the trough only gives you sight of the next wave.
Before I know it I am at the turn. I was surprised when I looked down and saw divers below.
The water was so clear and beautiful, you could see the divers plain as day.
I gave a quick wave and kept tight to the big red turn buoy. I just kept this same rhythm the entire swim and as I saw the bottom getting closer to me I said my goodbyes to the Indian ocean and said a thank you for being so hospitable to me.
Although my garmin wasn't tracking, I knew what time I hit the water and I knew I had exited the water with a 31 minute half ironman swim. A huge PR for me.
T1
This transition was long, running on the pavement wasn't ideal, I was thankful when the rubber mats started. I just focused on doing what I needed to do and getting to my bike.

The Bike
I get on my bike, and I start down the course. The first 8-9 miles are all uphill, my HR was high coming out of transition and I could tell right away that my power meters were way off.  This has happened in one other race (that race it was also raining) but Kelly had me ready for it. She has me practice blind power so I know what my power feels like and I don't have to go off of watts alone. So, I changed my plan to go off feel and just do what I do, bike strong.  The bike went well, I think if anything I may have pedaled a little light.
The one thing I do know is that it was the most beautiful bike course I have ever been on, there isn't even a close second.
As I got near the turn around and was going down the second big descend I wished my children could see through my eyes, and see the beauty that I was seeing. In this picture you can see the road I was on, with the Indian ocean as the backdrop, this dune had to be 90 feet tall, it was amazing, almost alien.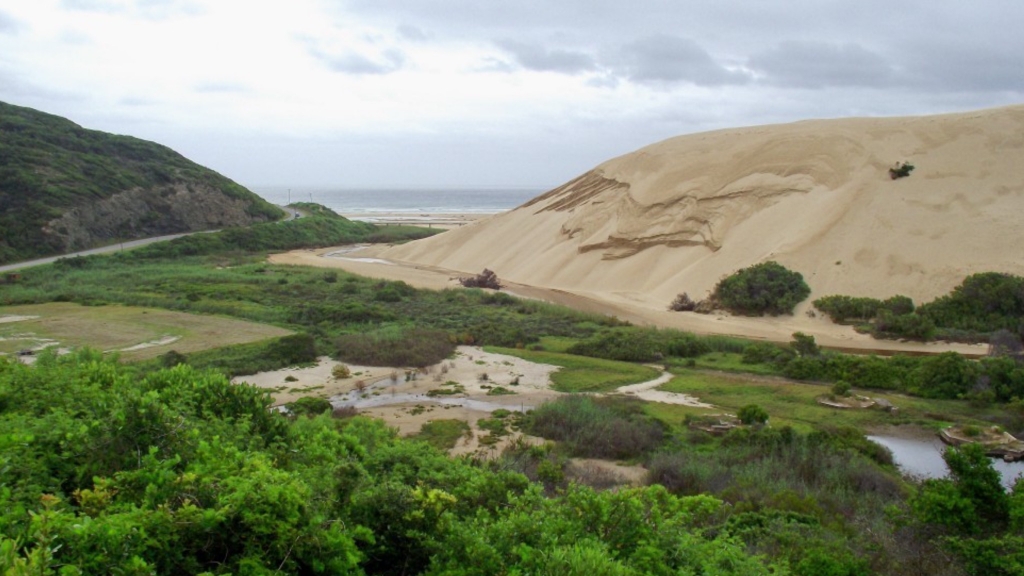 After the hills were done after the turnaround it was much easier to meter my effort. I passed a lot of people on the bike on the way into t2. I broke up big packs of drafters as I busted through them. Apparently they didn't like being passed and raced me then into t2. 😊 Finished the Bike in just over 2:31 averaging a little over 22mph, Fnot bad for the big climbs they threw in there.
T2
They take my bike for me (I feel a little like a celebrity) and I just have to change into my shoes and race belt.
The Run
The course is a long flat bookended by hills for the turnarounds.  As I settled in on the run I just wanted to stick to my plan as best I could. I kept telling myself I didn't fly halfway around the world to suck. I stopped at every aid station and had water or coke. They had some weird sports drink I have never heard of and I didn't want to chance it. I was getting salt from my base salt tube I had in my hand. I was taking licks of salt every mile.
I had a personal rivalry with another age grouper there so I was looking for him as soon as I hit the turn around. I knew I would be ahead of him on the bike, but hes a super fast Boston Marathoner type and I didn't want him to catch me on the run. I kept not seeing him and not seeing him. Finally I saw him at the 6k mark as he was still on his bike. This steeled my resolve to not take my foot off the gas for one second.
I kept taking in fluid, usually 2-3 cups every aid station and eating salt and laying down miles. After I had half the run in the bank I was giving every kid I saw high five, and getting tons of energy from the crowd. I had a friend there who was cheering me on every lap. Lots of people were encouraging to "the big guy"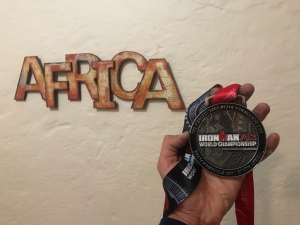 When finally its time to turn and go down the chutes I had been envisioning for months and months I got emotional that it was about to be over.
I had no idea what my total time even was. I high fived everyone coming down the chutes and I was elated that I had executed on my plan. When I finished I asked my friend who was waiting for me how I had done.. I said "Did I break 5 hours??" He smiled and said "4:53 buddy" I was so happy. Not to shabby for a guy who was 310 pounds 3 and a half years ago 😊