Dot Martin- 35 plus years as a competitive runner, 30 plus years as a  triathlete.  Dot holds a sub 3 hour marathon P.R. and has run close to 80 marathons.  She has won several of these and has been selected as the top ranked  Vermont State runner by New England Runner Magazine many times in the Open category, Masters category and now in the Senior Category.  She is also a multiyear All American Triathlete with a most recent podium finish at last years 2018 Nationals in Cleveland, Ohio.  She has finished 21 Iron distance Races, Including Several Kona Championships.  Dot and her husband John ( also a runner and competitive triathlete ) enjoy travelling and racing all over the country and around the globe.
Despite aging , injury and not being an especially gifted athlete Dot has been a consistent performer over the years and knows what it takes to get results.  If you want to get ready to race you are in the right place.  Dot will help you  incorporate your strengths , help you identify and work on your weaknesses, give you direction on types of training, periodization, nutrition, stretching, race selection, strategy and mental preparation. Plans are tailored to each individual athlete while taking into account their other life commitments.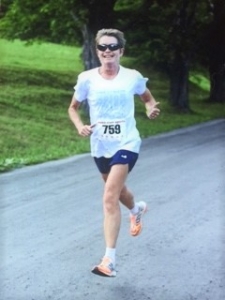 Dot only works with a small group of athletes at one time like all Ever Racing Coaches or Affiliate Coaches.   She  coaches committed athletes of all levels on an individualized basis primarily by email , phone or text.  A committed athlete does not have to be a great runner or triathlete.    Committed athletes want to improve and make steady progress and learn the lessons that come through being coached.  Whether you are trying to qualify for the Boston Marathon or Kona, just want to finish your first 5k or sprint distance triathlon.  Dot can help you set attainable goals in line with your level of fitness and ability / time to train.
Certifications- Certifications are good, but experience is better. I have a wealth of racing experience and continue to try different certifications to keep up with the latest trends in exercise science and race regulations, but in the end an experienced coach is what matters.​
Current: UESCA running coach certification.
UESCA triathlon coach certification
CPR
Previous :  ACSM personal trainer Certification, Ace Personal trainer Certification
Future: . USAT Level 1 Certification