Becoming an Ironman takes grit, dedication, time and work.  Here is the inside scoop on what it takes to become an Ironman as well as what it is like to have a qualified coach with your best interests in mind
through the process.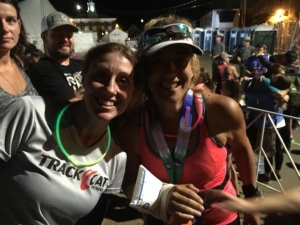 Liz Manfredi is the definition of determination and grit!  She came to me last year with a vision and a goal to complete her first Ironman. Liz has agreed to offer insight via this interview. By sharing her experience, we hope to increase the transparency for others interested in Becoming an Ironman.  In Part 2 of this series Liz will dive into what it was like to have a coach through this process.
Give us a little insight into your background.
I didn't get into sports until I was in my well into adulthood. I dabbled in tennis for a few years in my early twenties, but then fell head-over-heels in love with hiking, climbing and mountaineering.  At the age of 42, my mountaineering days came to a halt and I spiraled into a multi-year period of indolence and poor eating habits.
By 2013 I had more than doubled my body weight. Topping out at 328 lbs., I decided to reclaim my life.  I began walking every day and, six months later, started the Couch-to-5K running program. That year I lost 100 lbs. and completed my first 5K.
In 2014, I watched a friend compete in a sprint triathlon and thought it looked like a lot of fun so I decided I would train for one. Although I grew up swimming and playing in the lake at my grandparent's camp, I never really learned to swim until I decided to train for a triathlon.  In 2015 I completed my first sprint and was hooked!
The following year, in 2016, I completed the Timberman 70.3. I used free, online training plans and advice from friends.  Despite diligent efforts, my training was plagued by repeated cycles of train – get hurt- recover for 2-3 months-start all over again. It was incredibly frustrating.
Prior to completing Ironman Lake Placid, I had never run a marathon.
What made you decide to become an Ironman? 
 Mid-life crisis!!! I turned 50-years- old in 2018 and needed a goal. I needed to strive for something that seemed greater than my ability…something that seemed impossible. Swimming 2.4 miles, biking 112, then running 26.2 was inconceivable to me…so it was the perfect goal.
 How did the training process differ from your expectations?
It was not as time consuming as I had anticipated.  I imaged I would not have a life outside of training for six months, but that simply was not the case. Often, especially in the early months, I found myself thinking, "Is this all?  Shouldn't I be doing more?"  The last couple of months required significantly more training hours with those long bike rides and runs on the weekends, and double workouts during the week.
I had also expected that every workout was going to be a proverbial ball buster and that was not the case, either.  My training included much more lower intensity work than I expected.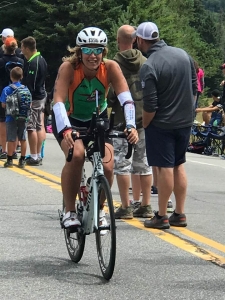 If you don't mind, talk about your health challenges….
 I brought a few pre-existing injuries with me to the start of this journey (i.e. tears and injuries to my hamstrings, rotator cuff tear, and meniscus; tendinosis of patellar tendons, psoas, and hip flexors; shoulder impingement; bone fragments embedded in scar tissue of knee joint; and, fractures of my thoracic spine.   Consequently, these issues would flare up intermittently and create functional limitations with regard to training.
Also, as a woman on the heels of menopause, I was contending with several days of hemorrhaging each month leading to anemia, which made it really difficult to breathe during exercise.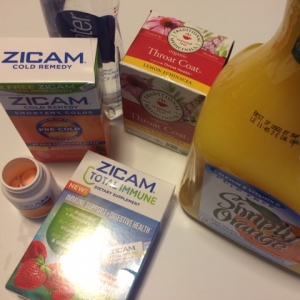 Influenza took me out of training early on in the season and pancreatitis sidelined me for a few weeks, just two months before Ironman.
An acoustic neuroma (not-so-affectionately referred to as "Fat Bastard") causes bouts vertigo that is sometimes severe and debilitating.  I can't always predict when FB is going to wreak havoc beneath my skull, but certain head positions in swimming seem to aggravate him.
…How were you able to succeed considering the health challenges mentioned above?
I was able to continue my training because I had an incredibly knowledgeable & creative coach who embraced the concept of "adapt and overcome". She thought outside the box and worked with what we had available to help get me Iron-fit and ready.
For example: when an exacerbation of a shoulder injury rendered me unable to swim with my arms for most of the training season, Coach had me in the pool several times per week doing kick sets for what seemed like an eternity.  I was not a happy camper at the time, but it prepared me for the swim and got me to the starting line.
When my knee became angry with the training load, Coach split my run sessions into two per day to minimize stress to the knee and maximize recovery time.
During those times of prolonged illness, when being sidelined was extremely stressful and discouraging, Coach had me doing work to strengthen my mindset.
I was not always able to train in the way people traditionally train for an Ironman, but Coach made sure I was always making forward progress.
I came to believe that she must have operated on the principal that, "if you have a pulse, you can train."
What was most important in your race preparation?
I think my mental preparedness/mind set was one of the most significant components in my race preparations.  I had a written vision and guiding mantras such as  "adapt and overcome" and "relentless pursuit of forward".  And when things got hard or frustrating, I relied on those short, simple mantras to keep me going.
People talk about hitting  dark places during IM, but you can't truly appreciate what that's like until you experience it for yourself.  For me, in those dark moments, when consumed by pain and fatigue…my world got very, very small.  I wasn't able engage my brain to remind myself about all the reasons why I should not quit. But I was able to latch onto a simple "adapt and overcome, and "pursuit of forward". And it propelled me to the finish line.
What were some of the hardest moments of your Ironman training journey?
The set backs caused by illness and injury were by far the toughest for me. Continuing to train while not even knowing if I was going to make it to the starting line was really tough, emotionally.  I found the emotional challenges of  IM training to be much harder than the physical challenges.
Dealing with friends and family who undermined my efforts by saying ignorant things like, "you should probably pull out…I don't see how you're going to be ready" and "I thought you're supposed to be an Ironman, why are you falling asleep at 7:00?  Clearly you're not ready to be an Ironnman".  Also, I was completely unprepared for "friends" who felt threatened by my progress and accomplishments and would say hurtful, demeaning things to make themselves feel more secure about their own athletic prowess.
Sometimes there were events/parties and family gatherings I chose to skip because I'd have to be in bed early, before the party started, in order to get up at the crack of dawn to get my training in.  It didn't happen often, but when it did I felt it…and my friends and family felt it.  I felt really selfish during those times and that was hard for me.  
I'm a social person and find immense pleasure riding and running with groups of friends.  Watching my running group go by and being unable to join them because it didn't work with my training needs at that time was also hard for me. Spending hours alone, on the indoor bike trainer was extremely boring and lonely.
What did you enjoy the most during the training process?
I loved working hard, seeing my progress in the form of objective data and hitting the targets set out by my coach. I also loved reaching beyond my self-perceived limits and discovering what I was truly capable of.  Here's an example: about three weeks before Ironman, shortly after I was cleared to resume swimming again, Coach prescribed a swim workout that I thought was impossible for me to complete because I hadn't been swimming much (other than kick sets).  I was supposed to do (4) sets of 10 X 100 yds. in the pool. 4000 yards!
WTH! I thought she had completely lost her marbles!  But I gave it a shot.
By 2000 yds. I was tired, hungry and bored.  I was also pissed because I didn't think I was going to be able to finish and that scared me, especially being so close to my race.  But I also trusted that Coach would not ask me to do something that truly exceeded my ability.  So I continued swimming and reaching for that 4000 yd. mark.  By the time I hit 3000 yds. I started to get excited.  I began to concede that maybe Coach wasn't so crazy after all!  Maybe I coulddo this!  When I finished that workout, I felt unstoppable and on top of the world.  I was infused with renewed confidence and pride.
But above all else, I most enjoyed the relationships that formed throughout this journey.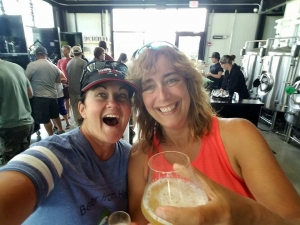 The people who supported me, (friends, fellow athletes, family, and Coach), shared the journey with me.  They celebrated my accomplishments with me; listened with compassion when I experienced set backs; didn't bat an eye when snot and other bodily fluids spewed from my orifices during those tough workouts; joined me on a few super-long, crotch-eviscerating, mind-numbing indoor trainer rides; forgave me when stress and fatigue gave birth to the occasional bouts of snarkiness; only laughed when I confessed to eating the entire pizza; and gave me snacks and put me to bed during those last couple of months when I'd burst into tears for no apparent reason or wander around the house forgetting what it was I was supposed to be doing.
You have a very busy life.  How were you able to fit in all of the training?
Honestly, I thought the training was going to be more time consuming. I had pre-conceived notions about what the training was going to involve, time wise, and assumed that every spare minute of every day was going to be filled with training.  But that wasn't the case.  I'd get up in the morning before work and get in an hour's work out, and another 60-90 minute workout after work.  Weekends were a little busier, but really not all that time consuming until the last couple of months before IM.  Until then, I was able to complete my prescribed training and still be home by late morning to have the rest of the day to spend with family. And, I usually had one complete day off from training per week.
Did you feel confident, highly motivated and encouraged the entire training period? 
OMG, no!  I had a pre-conceived notion that "good athletes" were always motivated, confident and encouraged.  It took some time, but I finally learned to accept that the IM training journey is filled with ups and downs, and that it's just part of the process. There were times when I felt on top of the world…fired up and confident in my ability to do anything. There were days when I couldn't wait to get out there for my morning training run, or long ride on the bike.
There were plenty of days when all I wanted to do was curl up on the couch with a pint (or two) of ice cream and a good book, and skip that swim. Many times I found myself completely overwhelmed with self doubt and discouragement.
For me, the key to overcoming those waning periods was to be brutally honest with myself, athlete friends, and Coach.  It's not easy to put yourself out there and let people know that you're feeling pretty down and discouraged, especially when what you're feeling is a gross deviation from what you believe about "good athletes".
I came to learn that during those times when I lacked motivation or was feeling completely discouraged it was really important to:
Recognize it
Own it
Take action
Sometimes just talking about it helped to renew my perspective. Other times, it was a good kick in the butt from Coach or a friend that got me out the door and back on track.  Sometimes I simply dragged myself, kicking and screaming, out the door to do what needed to be done, regardless of how unmotivated or discouraged I felt.
 At what point did you feel confident you were ready to finish the Ironman?
There were times, in the weeks leading up to Ironman Lake Placid, that I felt confident in my ability to finish specific legs of the race within the cutoffs times, but I'm not sure I ever felt "ready" to take on the entire 140.6. I knew that if I made it to the start line, I wouldfinish.  But I had no idea how I was going to pull it off.  It still seemed surreal to me.
How did the Ironman race ultimately go?
I finished!  The irony is that I did best in the swim, which was my weakest sport and the one I feared the most.  I was in a collision on the bike early in the race and sustained an injury to my wrist and arm.  But because of the work I did with Coach prior to the race, I was able to implement my race plan and keep moving forward.  It was hard.  It was painful.  It was a 16-hour-relentless-pursuit-of-forward. But I finished! And there is no experience in the world quite like running down the finisher's chute and hearing Mike Reilly declare, "You are an Ironman".  Definitely one of the most powerful and amazing experiences of my life.
How did finishing the Ironman impact you and/or your life?
Finishing Ironman Lake Placid has gifted me with a profound sense of knowing that no matter what comes my way, I have the strength and courage to persevere, to adapt and overcome.
Read about Liz's coaching experience Here!