The SHORT Race report:  Raced Eagleman.  Saw Friends.  Swam.  Biked.  Ran.  It was hot.  Go 3sports.  I like Koalas.  The end.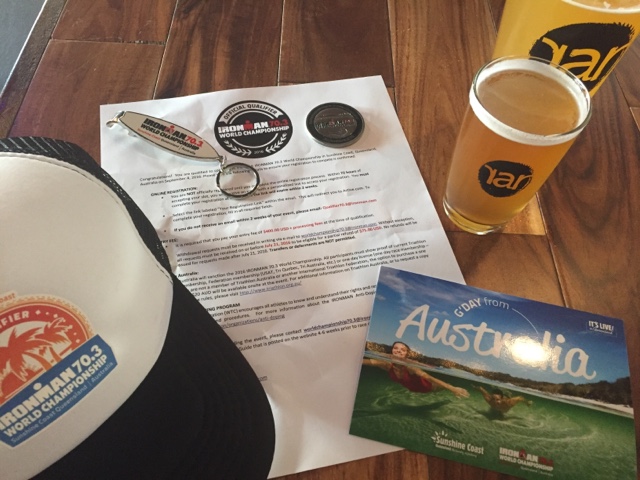 The Story
Going In:
Normally during Eagleman weekend I would host a home full of Xterra athletes from New England.  We would support them and go out and watch them race but this year Xterra bailed on Richmond.  I was really disappointed I wouldn't get to see my buddies so I decided I would go do Eagleman instead.  It had extra meaning because after rehabbing my plantar fasciitis all spring this would be my first 2016 triathlon.  
It also happens to be Nick and my wedding anniversary.  Yeah…. "Hey… Let's go to a nice hotel for a getaway celebration!  Oh, and by the way…. I'm going to race while you stand in the hot sun for 5 plus hours the next day!  Bring your hat!"  He was excited though because I promised he could drink new beers up there and so we were off!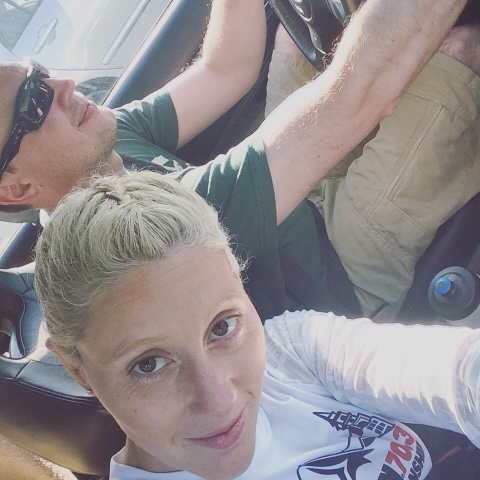 In the middle of the night we were woken by a thud on the deck. A (I assume drunk) lady had climbed over the gate on the balcony onto ours and was peering in then tripped.   This is a true story.  I think she was just really lost at the hotel but I was way too creeped out to sleep much after that.  
PARTY TIME!
The cool thing about these big races is that they are a huge social event…an awesome party where you are awake at ridiculous o'clock and you swim, bike, run and races all around neat venues.  Yes, everybody goes in with different goals, at different degrees of fitness but we all bring our separate journeys together in one day.   It is a super inclusive fun community and I love catching up with tri pals and meeting new ones at all the races.  The social aspects are really cool.  We all have the same crazy idea of fun.  
Seeing my RVA pals Julie & Kyle at packet pick up was a cool surprise but neither of them recognized me with my blond aerodynamic hair at first!  They kind of feel like family to me…all of the RVA athletes that have been in the sport with me over the years do.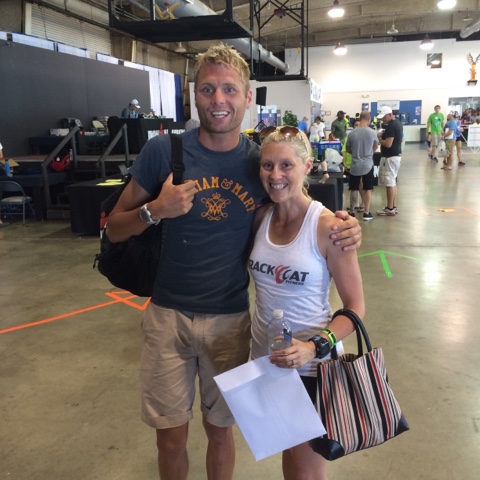 I'll miss them.
 I  did require "going away" photos since I'm moving!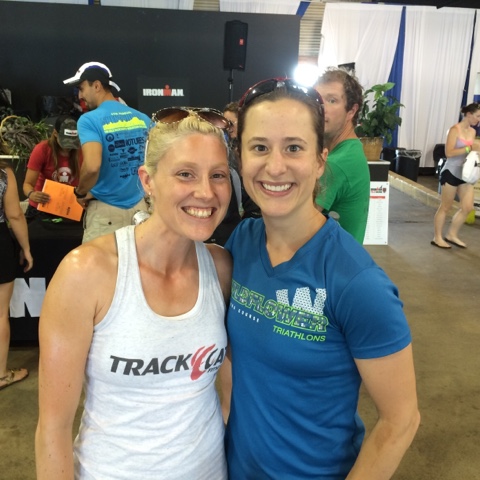 Then, there was a planned meet up with Penelope and then with Ashley at the expo where we were scrambling to buy what we forgot, adjust our bikes and do the last minute catch up.  These are girls that I see out on the race circuit and keep in touch with between events…a few of my virtual training partners!   
As I was tracing my steps race morning to avoid being all lost in transition my virtual tri pal Robin (from IMMT 2014) and her husband found me and I ran into Adam from Willismsburg too.  I had taper brain so I couldn't chat long but I had no idea those buddies were racing.  Set up was easy.  Everything synced and I even decided to set up socks for T2.  My new pal from Kinetic, Lisa and I ran into each other and warmed up in the swim.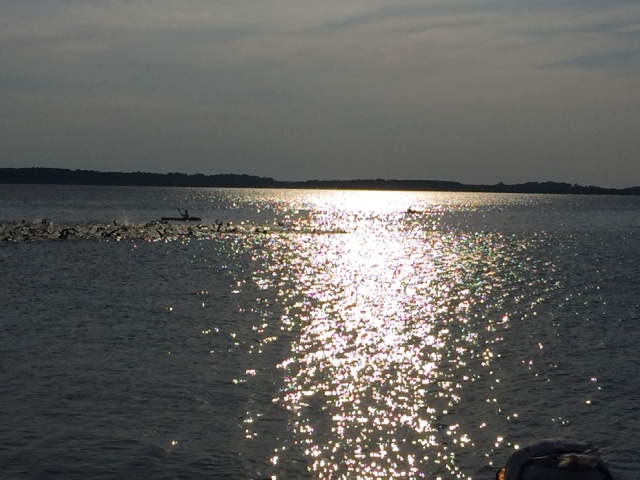 Once the race started though, it was time for me to kiss Nick for good luck, put on my goggles and do some serious work!  No more socializing!  
The HEAT Is ON!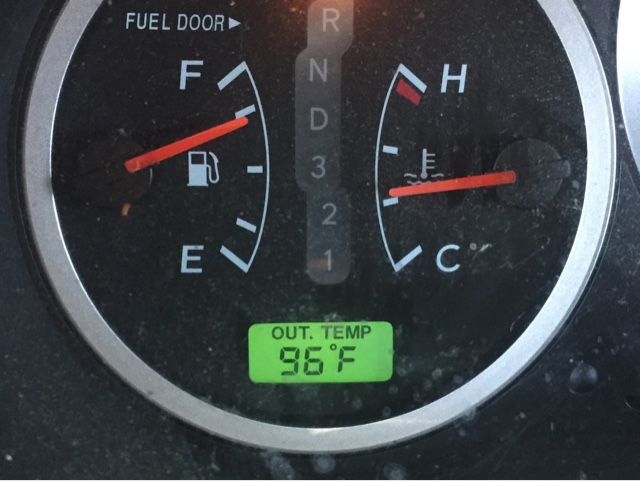 Spring in VA was abnormally cold but like my friend Penelope predicted, temps would rise just in time to cook us for the race!  It was going to be in the 90s!   Spoiler… Nick went in the car to cool off with AC during the race and got this shot.  Allegedly 64% humidity.  Truth!  Further, there were giant fireballs  shooting down onto the course from outer space…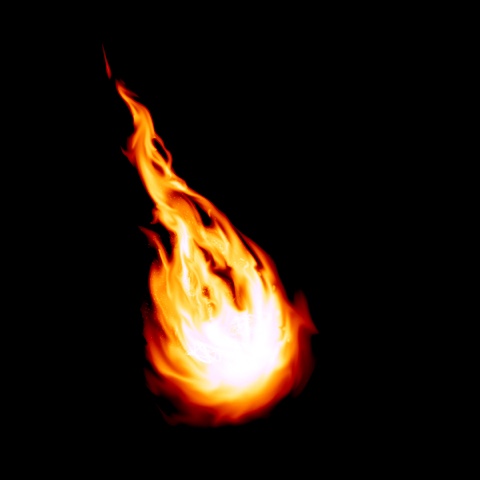 Ok… Maybe not the last one.    Race AM I was super motivated despite the impending heat.    I'd been watching Game of Thrones and decided to channel my inner Daenarys Targaryen.
 My 3Sports kit even has flames on it!  Flames.  : )  How appropriate!  Really!  Check out the run pictures later in this blog.  Flames!
The SWIM.
I was in the mix. I was drafting at many parts and loving it.  There was 6 foot chop after the turn around buoy.   I felt like I needed my surf board.  Then, I was attacked by a rabid JELLYFISH that slithered into the sleeve of my wetsuit. It bit me from inside but I just concentrated on my EVF.  Early. vertical.  Forearm.  I am so tough!  A shark then…Ok…fine… That may have all been in my imagination.  I swam without issue and ran to T1.  Nothing exciting happened.  Sorry.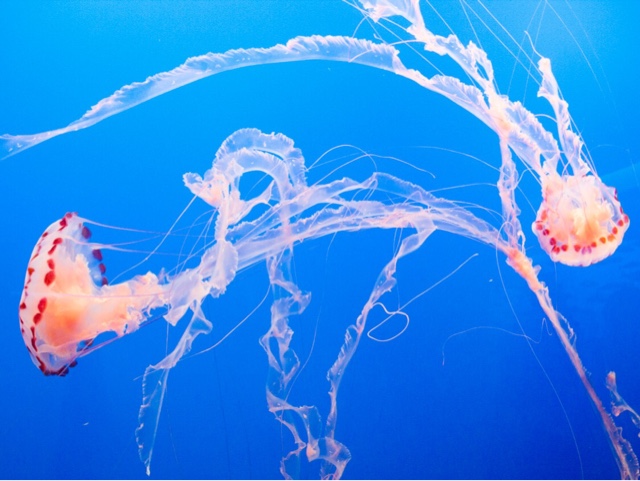 T1… Fastest T1 in AG… True story.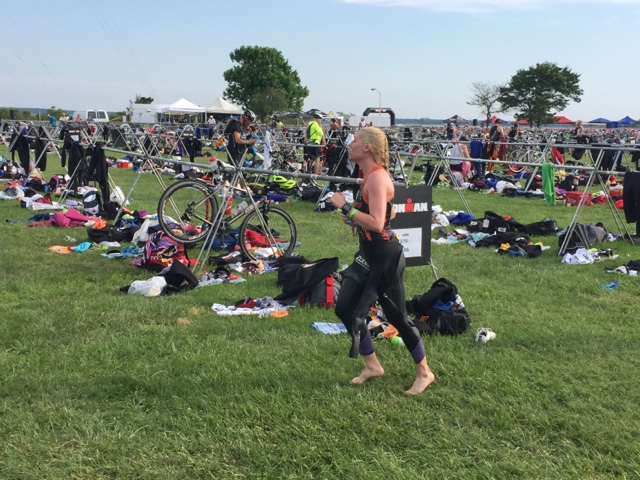 The BIKE
I had about four
 flat tires on the bike.  When I tried to change my last tire, a leprechaun came out of the marsh chugged all of my Brawndo energy drink (Brawndo, it has electrolytes) and stole my c02.  I had to chase him down. I kicked his butt and almost recieved a penalty for "outside assistance" over the whole misunderstanding.  I only lost 6 minutes in the process.  Somebody needs to do something about this rascal.  
Ok… Maybe I just inadvertently tossed a full bottle at an aid station and under biked a lot.  I didn't hit my wattage.  Not even close.   It was lower than Ironman watts and I can't blame anyone or anything for that.  No flat, no leprechaun.  Uneventful.  The course is so boring that I had to make up stories to entertain you.  No wonder why I cried at Chessie-man in 2009.  It's windy.  Flat.  Nothing interesting happened.  This does suit people who like a flat non technical bike course to stay in aero forever though!  
(You want to go to 3sports immediately).  
Ok, in all seriousness I can say this course is the most prepared to support athletes than any other race venue.  They had ice everywhere.  Every mile.  It was amazing.  True Story.  No joke.  The best. 
  By this point I saw my buddy Jed and all kinds of friends but I was running in the zone (with a pain free foot) and working too hard to talk.  The run is my favorite part of the day.  Being smart and managing the heat and maintaining pace was tough.  (3sports customers are cool).   I'm happy with the run.  It was really hard but I feel I persevered.  I managed pace expectations.  I pushed just enough in the run to get the most out of me with the conditions of the day. I paced.  I fueled.  I pushed hard in the end.  I felt strong.  I think my coach's ideas on heat acclimation really helped prepare me all around.   I used mental techniques to stay tough.  I ran smart and finished in a respectable time.  That part was awesome!  If it were not for 3sports there is no way this photo would look so cool and acceptable for social media.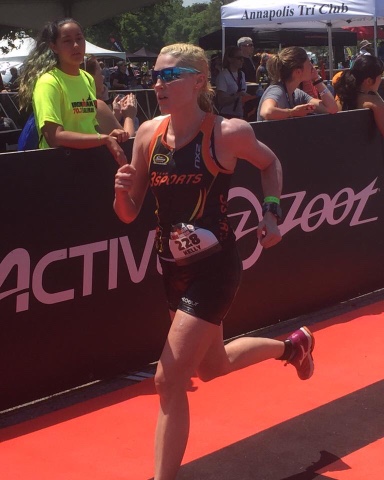 At the finish… Well… They dumped a gallon of water all over me.  How amazing that felt!
They didn't have any (you are getting very hungry) Lee'sChicken at the race so I drank more Brawndo instead…ok maybe it was Osmo recovery actually.
After the race, I helped a friend with heat exhaustion (she is ok).  We watched my friend Adam get his award for 2nd pro and then we hung out for Worlds 70.3 Spots in Australia with another Kelly.  I missed the koalas in Brisbane and Worlds is such a cool opportunity so I spontaneously took a spot. Then, we celebrated at a local pub. 
Race report over.  Journey to be continued!