This race was awesome and I am really happy! It wasn't perfect by any means but I'm really excited about how I raced through the personal hurdles that unfolded on race day and still managed to have a really good result.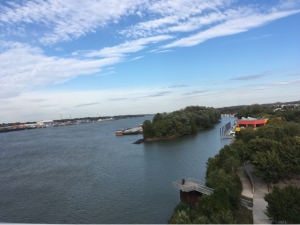 The swim has you jump off the docks near the colorful building and swim up and around the island. Photo taken a bridge that we swam under.
Pre-Race
Nick and I drove with my bike (Yvette) and my new friend Donna's bike (now named Cinna-Man) over a period of two days.
Yvette and Cinna-Man got quite cozy during this trip, haha!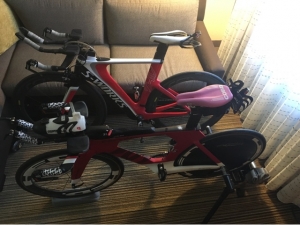 Yvette and Cinna-MAN
I had plenty of time to relax with Nick and my amazing parents who came out to Louisville. Since I raced this last year and knew the course we could relax more. There are so many fun triathlon folks from all over who are regulars on the ironman "race circuit" to see so we had a great time meeting up with people as we enjoyed the typical pre-race routine. For example, my "triathlon sister," Ashley pretty much is a staple now at our family pre-race meals if she's also racing. She joined us for lunch one day.
Family Relaxing!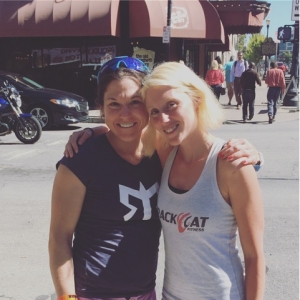 Triathlon Sisters
Other than obsessing over whether or not to wear arm warmers or not and whether or not to do the river pre-swim (I did both) race week was stress free.
Race Morning…
I woke up around 3:00 AM because there was stabbing pain in my ear. I discovered a few days later it was an ear infection from swimming in the river the day before.
I tried to tune it out and focused on preparing for a big day. I lined up for the start at ridiculous o'clock levels of dark-early and Nick waited with me.
The Swim
The start here is unique. After you join a line that stretches miles back you get to jump off a dock, swim around a little island called Towhead and then you're out in the open in the Ohio River swimming under giant bridges.
It is awesome.
It
feels pretty cool to be in such a large river.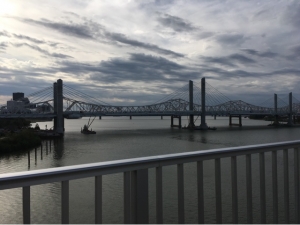 Taken from one of the bridges we swim under
I was really early in the line jumping in the water with in three minutes of the start which meant I was swimming by myself for the first 20 minutes.
After Towhead Island, a pack of fast men were passing me.
I tried to catch a ride with the group.
Those boys were aggressive but with my surfing background I can be assertive and fearlessly hang despite jostling.
Unfortunately, I was no match for an elbow to the eye.
The pain was stunning, took my breath away and gasping in pain caused me to swallow a gulp of nasty river water.
Sadly, I lost that pack and had a lonely swim the rest of the way.
That evening I discovered my first black eye from a triathlon swim.
I have MADE it in triathlon world, everybody (kidding)!
After that punch, I was able to recover and stay engaged in the swim.
I was able to swim about four minutes faster than last year with a new Ironman swim PR.
It likely wasn't just a function of conditions as I came of of the water 11 places higher in the AG compared to last year.
I knew I'm a stronger swimmer than last year based on my pool times leading into the race but it is nice to see that come together in a race result too.
T1
Jogging to the changing tent I said OUT LOUD to myself, "Do NOT go in the men's tent," to prevent myself from mindlessly following the crowd in there and scandalizing the race again.
The volunteer guarding the door laughed at me.
In the appropriate changing tent, I sat down for an all out war with my gloves and arm warmers and put on my lucky race headband under my helmet.
The arm warmers slowed me down more than normal but it was worth it because it was just below 50 degrees of cold at the start of the ride.
Bike
Yvette and I took off in excited anticipation!
I pressed start on my computer and realized I had no power or cadence data. I fiddled with the bike computer and also turned my watch on bike mode hoping it might read.
Nothing worked so I gave up, pulled my arm warmer back over my watch, was grateful I had HR at least.
I was happy I had been doing plenty of sessions in my "training dungeon" concentrating on how ironman effort should feel. (Apparently the battery I put in back in Sept was bad. I will forever put a new one in before every big race).
I started early in line for this race and so for thirty minutes I was loving uncongested roads. No drafters, no packs, no blockers and hardly any other cyclists near me.
It didn't last forever but it was bliss for a while. I was riding on a happiness high but then my chain kept flying off to the inside of my bike under my chain catcher whenever I shifted down to the little ring.
It was thrown off quickly without allowing me the opportunity to fix it while pedaling.
I had to dismount a lot. My limits screw was not proper but I didn't know what was going on at the time and couldn't see anything wrong despite fiddling with it.
Possibly something happened in transit to jostle it before the race.
During the race, I thought it happened at least 7 to 10 times.
Funny because the file indicated it only dropped a mere four times so my race day counting skills were a bit off from stress.
The last time it happened on a steep hill with bike traffic coming. To re-mount safely I had to run my bike to the top of the hill.
I felt ridiculous as others sailed by.
It looked like I had this fancy bike but couldn't "make" it up the hill as I hauled Yvette up.
I had to push back tears and pull myself together.
T
he only way I could possibly finally get a sub 6 bike split would be to stay on the bike.
Those 38 seconds too slow from my 6:00:37 PR at TX had been driving poor Yvette (Ok fine, me as well) bananas!
I chose avoidance of the little ring altogether as the strategy to ensure never having to hop off the bike for the chain.
I am not a very powerful rider but with these hills being short/steep punchy rollers I knew it would certainly be "do-able" with out a baby ring.
It was time for the longest big gear low cadence interval session of my life.
This would burn matches as I would grind excessively hard over the hills recovering easy if need be on the descents. I felt confident I had the bike fitness to carry me through an inefficient ride.
I cheered myself up by recalling that early this year I nearly started a fire and burned a ridge in my rear tire doing big gear work on a trainer with a cardboard insert for added resistance.
Nobody else I know is so amazing at big gear work that their husband makes them keep a fire extinguisher by their bike trainer and has banned them from using flammable materials in training.
Hello confidence boost!
The course being beautiful with sunshine picking up sure did wonders for my spirits.
You also get to go through a town called La Grange where they shuttle spectators out to view the bike course. I got to see the crowd with Nick & my parents twice on the bike as a mental pick me up!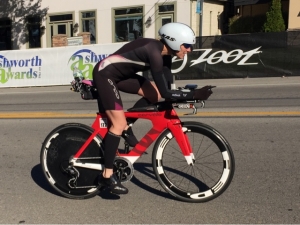 In the last few miles I heard my Garmin watch beep.
I rolled up my arm warmer and saw I had failed to take it off bike mode and the backlight was turned on.
"Low Battery.
Enter," it read.
"
OH HELL,"
I hit enter.
The watch almost immediately went black.
I was going to have to run on feel.
Rather than despair, I problem solved. I planned to grab my bike computer later for the run and try to convert speed to pace.
Brilliant!
In the last 25 miles the tougher section of rollers were over.
I was relieved and happy to be spinning nonstop at what I estimated to be a normal cadence for me.
I was able to stay aero and ride fast with a consistent effort to the end.
I finally broke the elusive 6 hour split and rode 5:51 which is a huge bike split PR for me and almost 15 minutes faster than last year with the time being faster in the second half.
Considering all the stops and no power data (which helps me pace more efficiently ands thus ride faster) I couldn't be more ecstatic as this means on a more perfect day I already have even more speed potential in me.
I knew my bike fitness was better than ever based on training but again, it is nice to be able to have that become apparent in a race!
A lot of the things my tri coach (David Tilbury Davis) asked me to do on the bike were just outside of my comfort zone and really hard for me but I am glad I listened to him.
I was off the bike 9
th
in AG according to the iron trac app once the rolling start was settled out.
I've never come off the bike in the top ten in my AG before.
T2
Running out, I saw Nick and tried to tell him about my power meter and my chain issues but he just told me to "go run and make it hurt." My friend Donna was just ahead of me all day but I had not seen her. We unknowingly exited T2 at the same time so this was a neat moment caught before we saw each other.
Run
In the early part of the run, my quads were already feeling shot from my big gear interval ride so I was grateful for a flat run course.
I had the bike computer in my hand attempting to get it to "auto-lap" every mile and find a pace screen.
My long time tri mentor and friend, Kurt caught me arguing with the bike computer straight away.
He told me to "just run," that I don't need the watch, am not a robot or something to that effect.
It was a big pick me up to see him and triggered me to forget all the noise and focus on how my body was feeling.
Early on, I poured ice water into my bra forgetting that is where I stored my bike computer and despite an amazing volunteer drying it off on her T-shirt, I appeared to have fried it as we got a blank screen.
I was running with out guidance. Nevertheless I did the best I could, stayed in the moment, adapted.
I didn't like it though.
A few times I whined to my parents, Nick, Kurt and maybe a few athletes when I asked them what pace their watch said they were running but I didn't let it get in my head to the point that it hurt my racing.
The course is mostly flat and you get to run near Churchill Downs twice and with the two loops you get to see spectators close to the downtown area at the halfway point for a pick me up.
I love the course.
There are aid stations every mile to help you keep track of how far you have gone if you are running data free.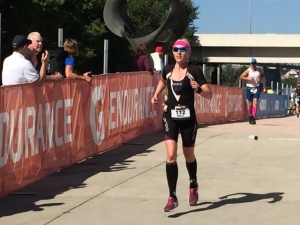 Fatigue was setting in big time around mile 19. At this that point in the race last year my mind wasn't as resilient and my heart was still slightly cracked from so many life stressors. I couldn't seem to muster the energy to run through that kind of all day long cumulating exertion pain last year.
However, this year I was so much more mentally prepared
"Just four more miles and change, " I thought as I passed that 20 mile marker feeling encouraged although really tired.
Wait…isn't a marathon 26.2 not 24.2 you wonder?
You are correct.
I was so tired by this marker that my mind had done some gymnastics and I believed a marathon was 24.2.
"Ironman Race Brain" is ridiculous.
At mile 24 I saw Nick.
He was yelling at me to push hard in the final two miles.
I was so mad upon realizing the finish was still so far away and the fatigue was already nearly unbearable.
I yelled at him to "go away!" He ignored my comments and yelled for me to "make it hurt," and "finish strong."
No coddling and exactly the tough love I needed from him.
The athletes around were either horrified or cracking up observing our loud public spectacle but I didn't notice.
I picked up my pace and turned my heavy legs over as fast as I could.
The End
Finally, Fourth Street Live finish line was in sight!
This is the most epic and exciting finish line of any race I have ever done.
The lights are super bright, the music is blasting and crowds on either side are cheering hard.
I ran right through it and I promptly stumbled nearly falling over from fatigue once I was past the line. This is common so the race has "catchers" to help you.
When you get that that feeling of crossing the finish line knowing you gave it your all and did the best you could with the circumstances of the day it feels incredible.
That is what it is all about.
It is about who can work hard, push hard and conquer their adversities along the way.
When you succeed in doing so that feeling of accomplishment just keeps you coming back for more.
It was bliss.
We happily discovered
reviewing results that I broke 4 hours for the first time in a marathon, had a 25 minute distance and course PR and PR'ed in every discipline.
That was enough to break top 10 in the Ironman distance for the first time with an 8th place AG finish.
I hoped for a much faster run split based on how well I was running in training and what I know I am capable of but I'm still happy with how I raced with what I had on the day.
My parents met me at the finish and took great care of me.
Nick ran all the way back to the finish to give me a giant hug.
We all walked back to the hotel. I called my triathlon coach to share my race recap because I knew he would want to hear about the race as soon as possible.
Then my family and I celebrated…maybe I'm still celebrating.
: )
I am currently filled with excitement for the next opportunity to tackle 140.6 and see how much faster I can go and how much stronger I can be. This tri season concluded with my spirits in a colorful, bright sun-shiny place. Well…a bright sun-shiny place of wanting to work hard and be a bit ruthless with myself and go to depths I never thought possible as I move onwards and upwards. I'm really happy!
That about sums it up…THANK YOU for reading and to all supporting me along the way!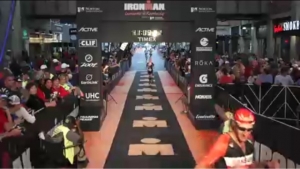 Someone sent me this unofficial pic. That little dot is me crossing the line. My pained expression is not visible! : )