Ironman Mont Tremblant Race Report Guest Intro
Originally this report was posted on Cate Sullivan's social media.  She has agreed to share her entire Ironman Mont Tremblant Race Report Uncut here on the Ever Racing blog.  When Cate first came to me for coaching I was excited because I know her passion for the sport and energy for giving back to triathlon is strong.  She is always there to help others along the way.  She also works very hard herself.  Cate put in 100% effort into both the training and coaching relationship with great communication that enabled us to constantly fine tuning her plan to align with her schedule and how her body was responding to the training load.  She was successful in finishing her first Ironman and I can't wait to see what she does next.  She's brave, tough and has a heart of gold!  Here is Cate's story in her own words:

IMMT Report By Cate Sullivan
Now that I've let all the feels of IMMT sink in, I'm going to share my race report!
First, if I had to describe in one word everything about this Ironman experience it is gratitude. I am grateful I am capable to have the health to even attempt an Ironman. My Mom wasn't much older than me when she lost her battle with breast cancer and that was a huge driver in my "why"; because I CAN and I am capable.
I'm incredibly grateful to have such a supportive family and circle of friends who encourage and motivate me and believe in me when I don't believe in myself. I'm grateful for everyone I've met through my training and racing; my training friends who pushed me in the heat and humidity in Virginia when I wanted to say "f this $h*+". I'm grateful for each of you who left a message, text and facebook on the day of the race and post race. Reading those messages post race meant more than you'll ever know! A special thanks to Dennis and Angelo who hung out with me pre-race while we were still mere mortals.
And finally, I'm grateful for all the lessons, bad and good, that I learned about myself in the 14+ hours in the mountains of beautiful Canada!
The Swim:
The swim was wetsuit which is a weakness for me – I don't swim as well in a wetsuit and it slows my pace a bit. I got a practice swim in on Friday before the race and although my wetsuit was okay, my pace was off. I just thought "oh well, it is what it is". When we arrived at the swim start, we found out the swim was delayed due to fog. This meant I had time to get in the water and pee in my wetsuit.
I was able to find my coach,
Kelly Hadiaris
and that was a huge pre-race boost for me. I searched for my family and found them on the dock, front row seats! About an hour after we were supposed to start, the fog had cleared enough to see the first few buoys, so they started the Pros. Then the wind shifted and the fog came back in but they had no choice but to start the swim.
Because it was a late start, they started us as a mass start instead of delayed start. I was in the 1:10-1:15 pace group which is an aggressive group, I'm a strong swimmer, but that meant I ran in the water with hundreds of huge men. Nobody could see anything in the water and there were so many of us people swam on top of each other. I got kicked, punched, dunked about 100 times before the first buoy – which I couldn't see because of the fog. I decided to follow other swimmers instead of sighting and hoped they knew where they were going. I have never been scared in water until this swim.
I almost bailed 4 times but I kept telling myself to toughen the f up. When I got out of the water I was shocked to see my time of 1:12! I was 14th in my AG for the swim and I was in the second largest AG. I can't believe I swam that fast in those conditions. If anything during the race made me feel like a badass, it was the swim.
Bike:
The bike course at Tremblant is my favorite. Although extremely challenging, it is the most beautiful course I've ever ridden. I love hill climbing and this course plays to my strength as a strongish cyclist.
I had nailed my bike nutrition during training. Fueling properly is huge in an IM, and something I take seriously since I have Ulceritive Colitis. Any mistake in fueling for me can mess my stomach up. I had pre-mixed bottles of Tailwind for the bike and planned 1 bottle an hour, so 6-7 bottles. I also had two bonk breaker bars and Scratch energy chews. My plan was drink every 15 minutes, eat two chews every 30 minutes. When I got on the bike I was starving! Because of the delayed swim start I hadn't eaten in three hours. I started gulping my Tailwind and eating some chews. Next thing I knew, my entire bottle of Tailwind was gone and I had eaten my entire pack of chews. Rookie mistake. I thought oh oh better slow down, that was supposed to last an hour. About 10 miles later, my stomach bloated and I started getting cramps. I didn't know if it was the water I drank in the swim or over-fueling. I decided to do water until my stomach calmed down. It helped a little. I tried peeing a few times to relieve cramps, but I couldn't pee so I was just doing kegel exercises and that was a bad indicator that I wasn't hydrating enough. First loop was pretty good but I could feel myself bonking. I decided to force Tailwind a bit, but I just got more cramps. Next thing I knew I was at halfway point where special needs is located and I had only drank 1 bottle of Tailwind! I should have drank 3 bottles by then!
The special needs volunteer was so sweet when she saw I was panicking about my fueling. I couldn't pick up my additional bottles because I still had 2 full bottles behind my seat.
I decided to just enjoy the rest of the bike course because it's so beautiful, even if my power was suffering.
At mile 90'ish, I saw Todd on the side of the road and that gave me a shot of adrenaline until I realized the kids weren't with him. Wtf were my kids? The second time up Duplessis sucked. It's a 6 mile constant climb with grades so steep I had to stand to climb. I finally made the final turn-around and flew back into town. Time 6:28. I had planned on doing better, and looking at my power it was considerably lower than my training rides. Fueling is everything!
But for a first IM, I had tons of fun on that course and I think I smiled the entire time.
Run
I was expecting the run to be a sh*t show but not literally a sh*t show. As soon as I got off my bike I knew I was in trouble. Light headed, stomach so distended I looked 5 months pregnant. I found the transition tent, put my running shoes on and grabbed my fuel belt. Then I wobble-ran to the first aid station. My plan was to walk aid stations and fuel. I had some water and coke at the first aid station and that Coke tasted SO GOOD! I continued running and instantly had to find a porta potty. I was actually excited to get rid of some of the stomach bloat and cramping. I managed to run-wobble to the next station and fuel/porta potty. I finally hit the shaded trail and felt so much better. I was able to maintain a 10:00-10:30 pace and felt good about it but then I would fuel and do the porta potty routine.
My run/walk was so lonely because most people at this point were running. I couldn't find a friend to suffer with me. I made it to the halfway by some miracle and looked for my family but I didn't see them.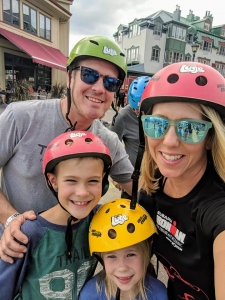 Mont Tremblant did something really cool, though. They took videos of family/support crews and played them on a large screen as we crossed certain points on the run course.
When I saw my family's video I started crying and I just wanted to stop and go see my kids! I had about 10 miles left at this point and I was miserable, to say the least. It was taking FOREVER!  At mile 18, my friend Dennis Kao caught up to me. When I saw him I started sobbing and told him I hadn't seen my family all day. He was so awesome and talked me into finishing. We said goodbye at the turn around and he went on his way. Luckily, on the last 10k I met some friends who were as bad off as me. I don't know their names but they cheered me up those last three miles and even made me laugh a few times.
When we had 2 miles left, we could hear Mike O'Reilly calling people an Ironman and we could see the lights of the village and hear the cheering.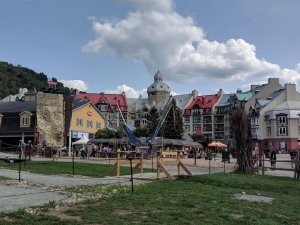 It was amazing!
All the pain magically disappeared and I was all smiles and high-fives coming down the shoot. Seeing my family at the end and having my kids put the medal on me was one of the best moments of my life. Final time 14:18.
Now that I've had a few days to absorb everything,
I've decided I'm going to go back to crush IMMT in 2021 for the 10th Anniversary.  I want redemption on that run course and this race venue is spectacular!