I'm participating in my inspiring tri pal, Sonja's "Rising Tide Triathlon 10 Day Routine Challenge".
Every day we are given a fun little task to help us add to a new routine of the new positive vibe we want for our training.  I believe you can join any time.  Just look up Rising Tide Triathlon on FB, Insta or Twitter to get the scoop.  Follow #RTTC10dayroutine for everyone's inspiring updates.
I'm not on this team, it's very open to anyone who wants to participate!  : ) 
We are already halfway through the challenge.  I fell behind with other things during the week picking up and taking priority over posting but I have reflected personally each day of the challenge.  Here's my summary: 
Day 1:  Set Intentions.  This is straight from the challenge and describes the purpose.
"What have you been wanting more of? What is lacking in your triathlon experience? What do you need a little magical boost of? Some fairy dust that bestows ______ on you? Think big, dream big, allow yourself to go there today, I give you permission. Don't be shy with what you want!"- SW
My intent for the "routine" is to bring out my inner strength & focus through self belief.  Self belief is different than self confidence. Self belief is deeper.  I think am a generally confident person but a stronger level self belief in my abilities is going to be extremely important as I head deeper into the thick a long term goal progression and things get tough.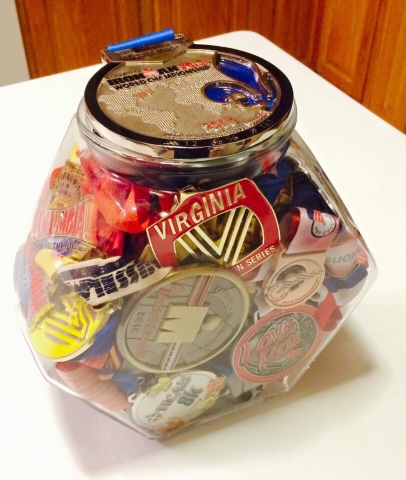 This is a great little craft project for my medal storage that I did recently. It will serve as a visual of my intention and a reminder of all the past successes and joys I've had in the sport I love so much.  : )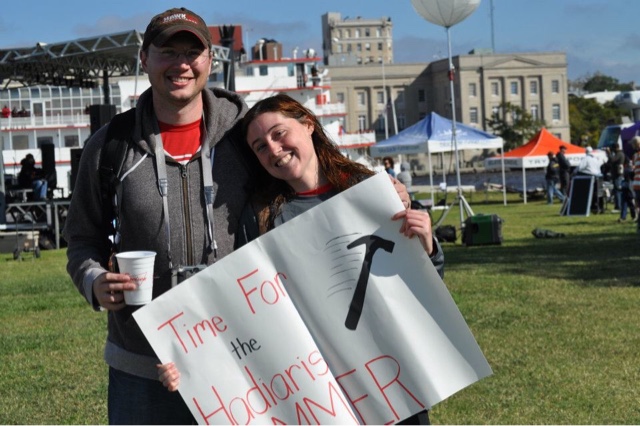 The first time I truly felt the strongest level of self belief in sport…a kind that triumphs over limits and conventional wisdom about what is possible was my post wreck comeback in 2011.  With that level of belief, I went not just sub 6 but sub 5:30 for the first time in a half iron here at B2B.  My friends made me cool signs!  The last time I recall having this inner strength and focus through self belief was when I coached myself to an 11 minute PR and 90 minute half marathon this year.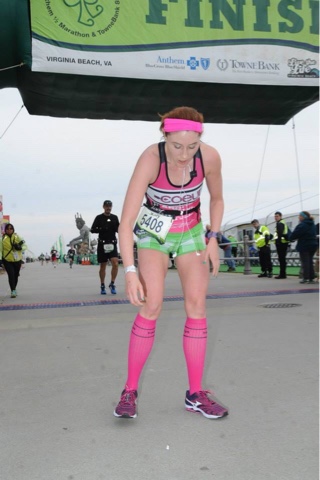 Intention: Self Belief to unlock inner strength and focus.  
Day 2: Rally the Troops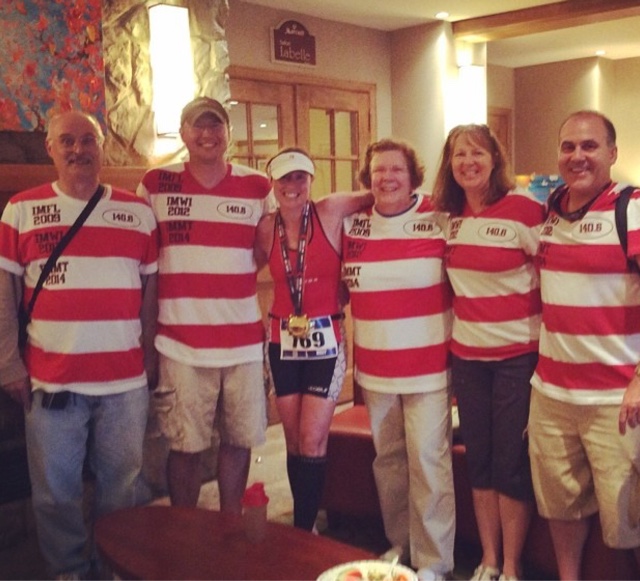 Day two wound up as a day of gratitude for me because I have so many people in my life supporting me as I chase dreams and goals.  Sometimes training in the thick of it does get lonely but I must remember that I have support from fellow tri pals- both new ones and those from my rookie roots, work colleagues, my best competitors, amazing friends and a very loving family.  When my self belief has faltered I've been lucky enough to have people from all areas of my life who expect big things from me.  I had a hard time picking only 3 people!  Here's a picture of my family on race day dressed up in Waldo stripes so I can find them cheering on the course.
Day 3: Functional Playlists
1.  A new song I listened to for the first time after IMLOU.  2.  The theme song in our routine from when I made our state's only "All Star" cheerleading competition team and we won so many competitions all the way to 6 Flags, NJ!  3. The song that played while waiting for our wave to start at Timberman 2015.
Day 4: A Touch of Magic
I have so many lucky charms and good luck rituals!
1.  I love wearing pink and green for races.  Its DZ colors and of course it comes with the memories of being tenacious and standing up for myself years ago wearing PINK…a color of strength.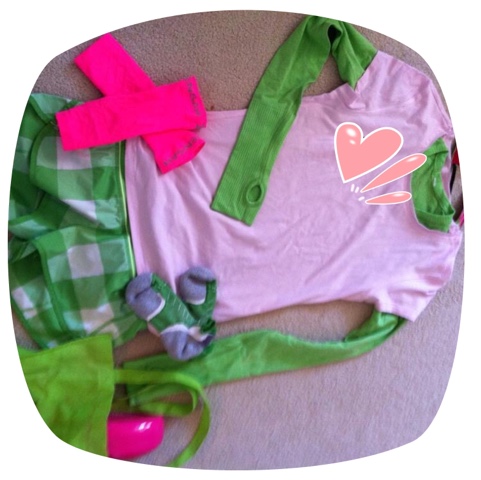 2.  The Tiger Towel.  I had this in transition at my first ever tri! Also, I love animal print.  My first ironman, a wild spectator yelled, "Kelly you're an animal!" as I headed into the finish line and to this day, animal print strangely reminds me of succeeding in my fist ironman.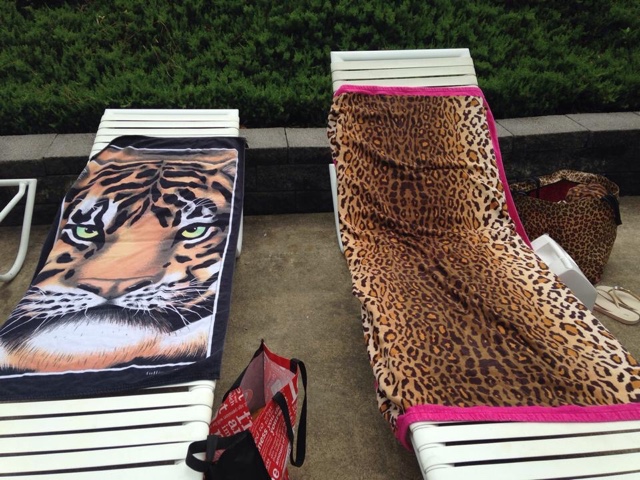 3.  The lucky zebra from triathlon camp in 2010!  We were Team Zebra and we made it up Crabtree falls. She comes everywhere triathlon related as a reminder of how far I have come and how much is possible.  She can sometimes be found in my bento box.  Zebra striped anything reminds me of the inner strength it took to get through the challenges of the camp.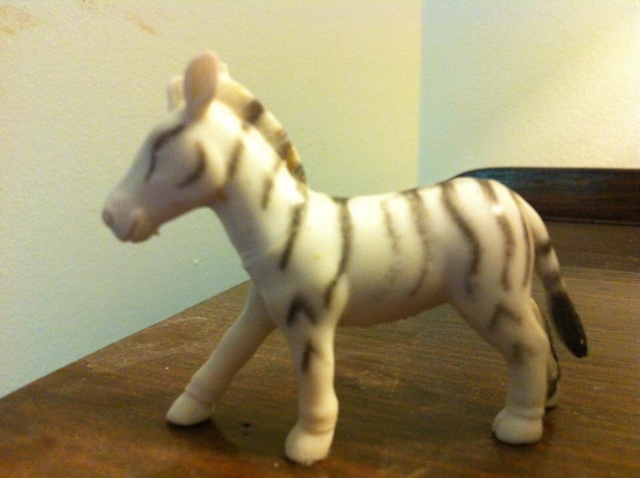 4.  I wear my cheetah print pants the day before every race!  This is so I can be fast like a cheetah.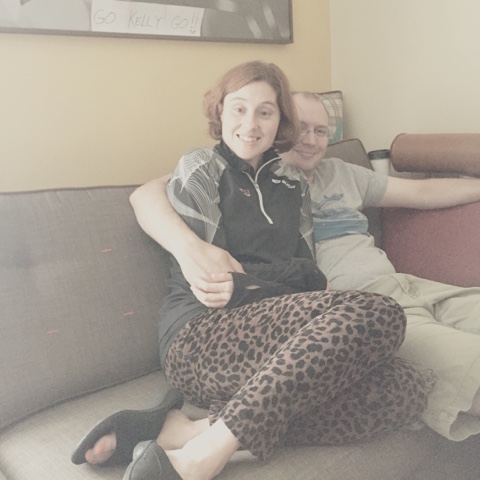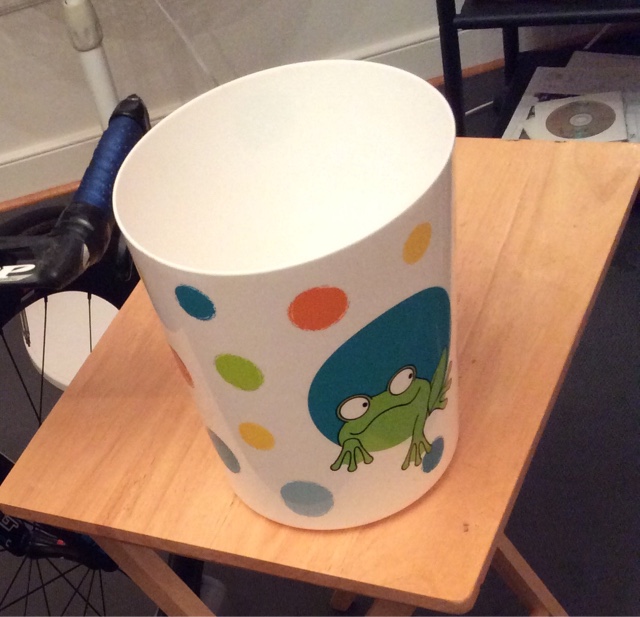 5.  My bike trainer bucket with cute frogs on it from 2012.  I write my power test numbers on the bubbles.
That's enough of my lucky charms to share for today!  I have lucky socks, stones, lucky pink  headbands, a toy cheetah, a toy "Hadiaris hammer" and more.  There are enough lucky rituals, habits and charms around me that I won't be lost if one goes missing. : )
Day 5 Mantras 
I recently brought back BSFS.  Better.  Faster.  Stronger. Faster.
I wrote BSFS on my excel goal sheet with a link to the 6 million dollar man video in 2011 post wreck and then exceeded each milestone target.  I wrote BSFS on my hands for all races as I came back from the 2011 bike wreck.  I need that same level of motivation I had back then.  It was the kind that causes big dreams to slap the perceptions of a limiting "reality".
BSFS is now what I put as a "title" in many of the key training sessions I've been writing for myself in Training Peaks.  I'm going to embrace it.
BSFS will have me crushing it…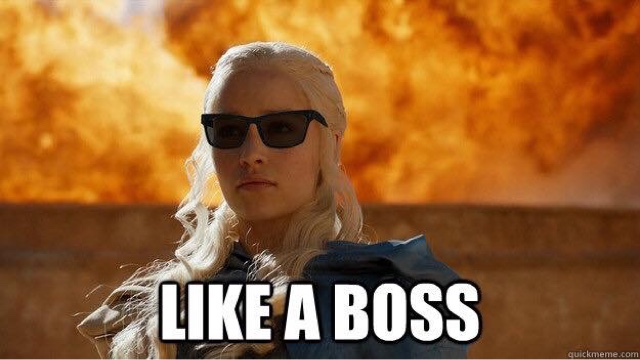 Day 6: Pep Talk
Rather than post my actual pep talk, I'm writing it down in a card and I'll open it when I really need it… If I'm injured, getting stuck in a quicksand of doubt (like I did back in August) or just as an added boost during my A race taper.  I'll keep it in my trainer room so it's always handy!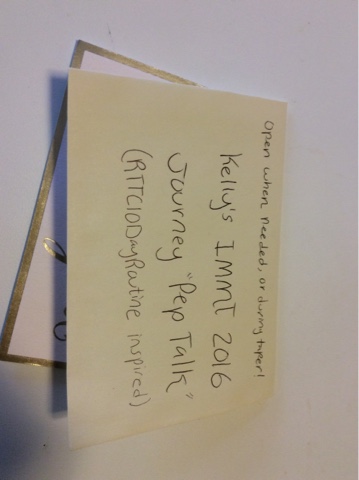 4 days left in the challenge.   I am loving this journey.