Here it is.  My Ironman 70.3 World Championship Race Report
I was elated to be able to make it to the 70.3 World Championship.  It was the first time it was on USA soil since 2013 and the course promised to be tough!  For the first time ever they had women's race as a separate event on Saturday and the men's race on Sunday.  It was so empowering and invigorating to be out there with the toughest, strongest female athletes on the planet!
Pre Race:  The Time Has Come…
"The time has come for me
To break out of the shell
I have to shout
That I'm coming out" – Dianna Ross
I trained through this race knowing that I would still need to recover for my later season events.  I was here for fun!   Nick and I flew in and caught up with many of our triathlon buddies in town for the event and did lots of sightseeing!  We even went over to Ruby Falls and saw an amazing underground waterfall.  I highly recommend that tour.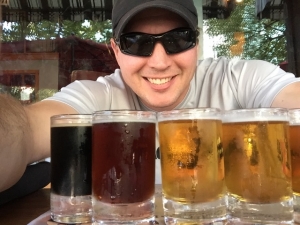 Nick and I caught up with Coach Aaron for lunch and made all kinds of awesome plans for Ever Racing!
The race itself had the BEST COURSE EVER!  I mean challenging! Chattanooga was a picturesque venue.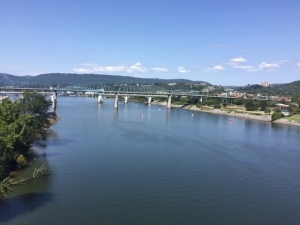 Race AM:  Let's Get Ready to Rumble…
Let"s get ready to rumble!
Get ready! Get steady! And rumble!" -Ant & Dec
My anxiety was really low and I did not feel butterflies since I was truly just there for the fun of being part of a world class event.  I went with the flow and didn't even preview the bike course in the days leading in.
Soon it was time to put on my wetsuit…and I waited until the very last minute socializing and taking in the sites. I finally squished my legs into the suit.  I then grabbed my long sleeve top portion of my one piece triathlon kit to work my way into that tight top.  
I don't zip it up with the sleeves on until the final moments.   Removing it to pee all morning is a hassle since it is hard to get in and out of. 
Well, I had it on BACKWARDS!   Oh, no this is not a thing that happens to folks.  Who puts their clothes on backwards and doesn't notice for several hours?
In a panic, I told Nick I needed to go to the portas and sprinted off.
The lines to the porta potty were backed WAY up.   There would be no way for me to wait it out, change and make the walk down to the docks in time.   I would miss the start of my wave.   I sure didn't fly all the way to TN to miss the triathlon because I could not dress myself.
As we stood in line my husband took off his hoodie and a very kind female athlete that I do not even know  in front of me held the other side to cover my bottom half.  "I'm touching your boob and I'm sorry!" she laughed.  Awkward!
We made an absolute SCENE in the crowd.
With help, I got it done and there was no public nudity which could lead to a DQ- disqualified!

The Swim:  Under the Sea (ok, River)
"Down here all the fish is happy




As off through the waves they roll




The fish on the land ain't happy




They sad 'cause they in their bowl"  – Samuel Wright
There was so much space and no chaos in the water. I enjoyed being out there!  I didn't mind swimming upstream but in hindsight I should have been closer to the shore rather than on the buoy line to reduce the impact of the current.  Despite needing to pee and struggling to move forward and multitask, I had to stop and go.  In my suit!  Yes….we triathletes pee in our suits. I should have waited until the turn around to do this as I let myself get pushed backwards in the swim.   I enjoyed not being punched in the head, elbowed, dunked etc.  It was the most peaceful triathlon swim of my life!  It took me around 40 minutes so I was WAY off my normal swim times.
The Bike… GIRLS!
"I like the way that they walk
And it's chilly to hear them talk
And I can always make them smile
From White Castle to the Nile…GIRLS!"- Beastie Boys
It was such a relief to be around respectful, legally riding awesome athletes!  A fair race!  We climbed straight up a mountain where we were all grinding slow enough to take in the breathtaking views and then we bombed down the hills. It was exhilarating! I was having a great day!  In hindsight I would have pushed the hill more.   If I had been in it for more performance or coaching a gal to race I would have pre-ridden and come up with a unique strategy to hammer up into high z3/tempo just under z4/threshold power and then recover on the descent easing back to typical race watts.   The climb was long and slow but I never ran out of gears on my 11/28. Nevertheless, I had fun and the views were stunning.
I Get Knocked Down…
I saw my friend Melissa ahead and was closing in on her on a nice flat smooth stretch of pavement excited to say hello around mile 30.
Then, searing, burning, screaming agonizing PAIN.
I was skidding sideways on the ground into the road. I somehow rolled myself to the side and kicked-grabbed-yanked my bike off the pavement too…without standing.
I was on my back on the side of the race in tears trying to figure out what happened and if I was ok.
It hurt. So much! I lifted my right arm in the air and followed my finger with my eyes trying to "treat" myself. I was scared to lift my left arm but I did! It was a bloody mess but I could lift it. I slowly sat up, in tears because it all hurt.  My knees and calf were bloody. It appeared I was ok although I was uncontrollably sobbing.
I counted to 20 and knew my name and where I was but I couldn't comprehend WHAT happened.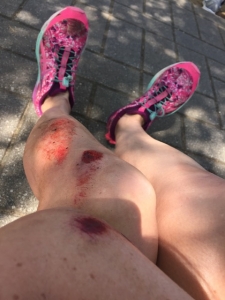 A few girls rode by and promised to get someone. I felt very cared for.  I eventually collected myself and painfully stood up.
I could walk. I hobbled tentatively along the road searching desperately for an answer… for the culprit crack or pothole that took me down. Nothing.
It was the most pathetic place to crash! No turns, smooth pavement, no hill or gravel or loose bottle…nothing!
The Officer Showed Up to Help…
…I was adamant he wasn't to touch my bike or my gear because once I realized I had my working limbs I was hell bent on crossing the Worlds 70.3 finish line! He laughed and said he'd been warned. He walked me through making sure I was safe to ride. I checked out my bike.
The spare tube normally stored banded and Velcro strapped under my rear bottle cage was jammed in between my frame and rear tire. In a freakish twist of bad luck it had unraveled and caught in just the right spot.  That had stopped my rear tire and sent me down. It was lodged in between there hard.  Nobody ever thinks, "Oh, let me check my rear cage to ensure my tube is not going to come unravelled!"  That is not a "thing"….until NOW!
I pulled and struggled and even yelled at it.  It simply wouldn't come free.  The officer offered me a knife but I could not take it as that could be considered outside assistance. I was so frustrated trying to muscle it out that I tried to BITE through the tube.   Yes, my race brain decided the solution was to gnaw at it.
There I was, bloodied, sweaty and kneeling on the side of the road desperately chewing a tire tube at the 70.3 World Championship Race.
How is that for at 70.3 World Championship Race Report?
The officer remarked that I wouldn't be able to chew through it. I retorted, "BUT this is the 70.3 World Championship! I just have to finish!!!"
I came to my senses. I eventually eased, worked and slowly pulled it out. Then, I had no place to put it. I shoved it in my bra! A handy pocket on the fly!  Who needs silicon, kleenex or gel pads?  I stuff my bra with tire tubes.
Of course, my chain was dropped and stuck between the frame and derailleur. It took more patience to fix that.  Another obstacle.
Finally the officer in disbeleif that I got myself together bid me luck and got in his car after I checked my brakes, tires and shifting. I hopped on and could not clip IN!
I had to get off the bike and clean dirt/rocks etc from in my cleats that prevented me from locking into my pedals.
But I Get Up Again…
"He sings the songs that remind him of the good times




He sings the songs that remind him of the best times"- Chumbawumba
Finally, Yvette (my bike) and I were cruising.  I settled into aero….and OUCH!  Oh, my elbow could not bear weight.  It was excruciating.  Hello parachute in the wind and my poor sit bones as this bike & saddle set up was not fit to be driven upright!  Every so often I would try to get back in aero with zero luck.  It frustrated me but mostly I was ELATED to be physically capable of riding my bike, even if it was ridiculously upright and slow with some pain in the last 26 miles.  Sure, it slowed me down but felt gratitude for being OK!  I even "sang" the cheesy songs popping in my head (the headings in this post) along the cruise back to T2.  My bike split including all that time on the side of the road was 3:15.  Not too shabby considering my setbacks!
The Run:  We are the Champions
"I've had my share of sand kicked in my face
But I've come through."- Queen
Sure, there was blood all over my legs but I was READY.  Chris, a kind volunteer in T2 helped me collect myself and I was OFF.
Oh, my leg was burning and I wasn't comfortable at all but my mind and heart were happy!  That is what matters.  The JOY of being out there with others.  We overcome our personal battles and we do it working hard side by side.   I saw Nick a few times on the course and I saw a ton of my friends cheering along the sidelines.  I talked to other athletes along the way.  Women from all over the world!  I was in it to finish and certainly wasn't pushing my hardest because everything hurt.  I wanted to just savor the ability to race on the world stage!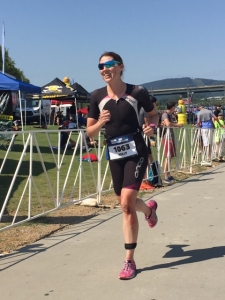 I was engaging with other athletes and having a ton of fun.  I paced with a girl named Shannon who was on her 2nd lap and enjoyed cheering her along.  I met a redhead named Molly who told me about her nemesis.  A great story for another day!   Joy and connection is what this race was about for me.   None of my new friends mentioned the blood all over my face though!  Doh!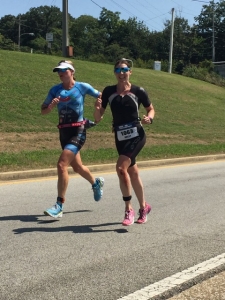 Nick was everywhere catching photos and it was making me smile every time I saw him!
The crash slowed my time/results but only strengthened my resolve.   My muscles were sore from riding 30 miles in a new position.  My arms and legs really stung.  I had a headache. Yet, I was HAPPY!  I was immersed in each moment.
I ran around 8:14 pace with the second loop 5 seconds per mile faster than the last.  Considering the kind of day this was, I am pleased I was able to negative split and hold a respectable time for a 70.3 on the hardest terrain I have raced in to date!
The Finish: Celebrate!  
"Celebrate good times, come on!"- Kool & the Gang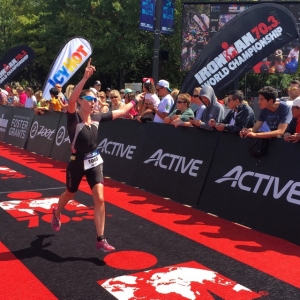 I ran the last mile of the 70.3 World Championship really quickly but soaked it ALL UP!  Celebrate was actually playing when I crossed the line so I was dancing and loving the moment!  There it was….I crossed the finish line at another 70.3 World Championship.  I was racing on full this time…full of joy and happiness despite setbacks.  My time was around 5:50.  It was my slowest half iron in years but one I am proud of because through it all I maintained my joy and gratitude just to be there, racing at Worlds.  I was so happy.
I sometimes read a letter that I had written to my future self when I set big goals in sport years ago.  I think that this kind of race day is what "past Kelly" would have wanted for me, when she set out to see if a back of the pack age grouper could compete amongst the best in the World.  The joy, the feelings of happiness and satisfaction from pushing through obstacles is rewarding.
My next 70.3 World Championship I promise I will race and take it to a new level of performance! My next race….that is when I will race FLAT OUT  and SUPER Focused!