I am so excited to be able to give you another look at what it takes to get from the start to the finish line on Ironman race day!  This guest blog is  put together by first time Ironman Finisher, Liz Manfredi!
This is a two part report.  Be sure to check out part 2!
IMLP 2018- Post Race Review: part 1
My mantra for most of this training cycle has been, "adapt and overcome". From that mindset I decided that my focus/theme for IMLP would be "Unstoppable", and unstoppable I was.
Pre-race
In the days leading up to the race, I filled the void created by taper by investing a shit-ton of time organizing and planning for my big day. I had a race plan. I knew what I was going to eat and when. I knew what I was going to do each day and when. I was super organized. I pre-packed each of my race bags ( morning, bike, run, and special need) in bins that were clearly labeled and all I had to do was dump them into their respective colored bags. All the pre-planning helped mitigate my anxiety.
I arrived on Friday morning and, after checking in, dropped my bike off to have race wheels put on. Then spent some time strolling around the expo. I got very excited when I picked up my bike with its new wheels. OMG! They completely transformed the appearance of my bike. It looked FAST. Took it out for quick and easy spin and fell in love with them. Of course, there was not much wind that day.
I felt fast and started to feel a profound sense of confidence and started to believe I was going to have a fantastic bike race.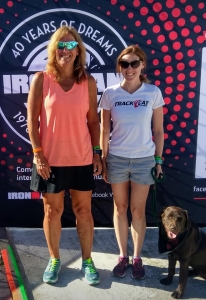 I did not do any "training" such as the optional swim or run on Fri or Sat. I'm not sure why, but I felt like it was too risky in terms of my mind set. My last training run and swim had felt great and I wanted those experiences at the forefront of my consciousness.
I focused on quality rest, hydration and nutrition and limiting the amount of stimulation. Early bed times, eating only what I brought from home (except for pancakes at the oval…yum!), and quiet time off my feet with a book. I got a solid 4 hours of sleep on Ironman eve before waking up at 1:00 a.m. and then being unable to go back to sleep.
Race Morning
Up at 3:45 a.m. to eat. My anxiety was rising and I felt sick to my stomach. I was not able to eat all of what my pre-race nutrition plan included. I forced down a protein shake with banana, half a bagel with jam, and a 23 oz sports drink. I just couldn't get that last half of bagel down.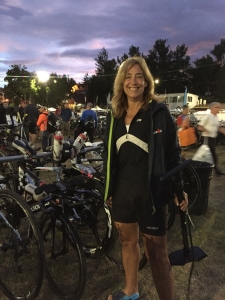 Headed to transition at 4:30 a.m. to get body marked. I went into transition and checked my tire pressure (90 psi) and loaded my bike with my nutrition and sports drink. Double checked to make sure I had my timing chip and gear for the swim. I felt completely overwhelmed looking at all the bikes and started to cry. So I took some time to just breathe and feel my feet on the ground and regain my composure. My friends took my special needs bags and dropped them off so I could just head straight to the swim start.
Swim
I found a quiet spot and sat by myself trying to focus how strong and confident I felt during my last 4000 yard training swim. I felt incredibly nauseous and my lips and fingers were tingling. When it came time to have to move toward the beach to line up, I wanted to leave. I almost did leave. I thought I was going to throw up and have explosive diarrhea. I forced myself to line up with a pace group. It was so crowded and people were pushing and trying to get closer to the front. I was getting chest pain and was cursing myself for not including, "chest pain", "nausea" and "explosive diarrhea" as "reasons to quit" on my race plan. I felt completely consumed by fear and panic, but I kept moving forward.
Finally got in the water and it was a battle to swim. My first big mistake of the day was not listening to my coach who suggested I line up with the 1:30 to1:40 group; I lined up with the 1:50-2:00. Right off the bat there were people in front of me floating on their backs, barely moving. There were people trying to swim over the top of me. [When we were on shore, waiting to make our way into the water, I over heard a group of obnoxious men erroneously telling people that the pace groups were organized by time per 100 yds, not estimated finish times. They were also talking about how they would just swim right over the top of slower swimmer who got in their way]. I was having a hard time swimming and controlling my panic. I went far out to the left so I could have some space and put my head down and started to swim.
I started to relax a bit as I settled into a rhythm. I got way off course and had to swim an extra 100 yards or so to get back and make that first turn at the red buoy. Then I made my way to the cable and decided to stay within sight of that line. Someone behind me kept hitting me. At first I thought it was an accident, but he kept it up. Felt like he was punching me. Then he grabbed my wetsuit and pulled me under. Total panic! I tried to get my head above water and catch a breath but caught a hard blow to the back of my head instead. He literally swam over the top of me, giving me a push as he went by. I flashed back to my extreme white water kayaking days and felt like I did the time I got trapped beneath the hydraulic of a waterfall and thought for sure I was going to drown. I felt frantic. But then something shifted, and I saw (in my imagination) a whale who came face to face with me, it's eye looking straight into mine. And into mind came the words, "Nobody sinks Shamu!" WTF! Where did that come from?!?!
Regardless, it propelled me into a different mind-set.
I put my head down, got my hips up, and started swimming like an athlete instead of a victim. I stayed on the line for the rest of the swim. I surged ahead at times to get out of messes. When I encountered a jam, I picked my head up and found a path around, surging, and getting back on the line. I felt fast and strong, powerful and effortless. Totally crazy, but I was that whale moving through the water (Whatever it takes, right?) I could not believe that first loop went so quickly when I finally started to move.
The second loop was still tough in terms of people and getting smacked a bit, but I was still channeling my inner whale and held the line for the entire loop. And I swam that second loop without fear even though there was a ton of chaos and turbulence in the water. Got out of the water and felt on top of the world. Got stripped and ran to transition.
I came out of the water in 1:33, about 27 minutes faster than anticipated.
T1
I intended to have a very fast T1 time. Got there quickly, grabbed my bag and headed into the tent. Holy crap! It was mobbed! My second mistake of the day was putting a large piece of duct tape over the hole at the top of my bag (the day before) to prevent the rain from seeping in and getting my shoes wet. Well, I could not get that freakin' bag open and there were no available volunteers. I finally tore the bag wide open and dumped my shit on the floor.
The next mistake I made was taking the time to put on dry bike shorts, since my dry bike shorts were soaked within 20 minutes. Helmet and shoes on, moved to my bike while shoving half of a jelly sandwich into my mouth.
Thrilled to have survived the swim!
Bike
My bike had a 404 on the front and 808 on the rear. Another HUGE mistake I made was, again, not listening to my coach who advised keeping my training wheel on the front if there was going to be wind and rain. I checked the forecast on Saturday and it predicted winds of 13 mph. But another forecast suggested it was going to be more like 25-35 mph.
In my gut I knew the conditions were going to be bad and I should swap my wheel. But I was tired and did not want to drag my bike back up to the oval. Lazy! So I kept it on and paid the price. As I neared the Keen descent, it was pouring rain, and the multi-directional winds were so strong I was being blown all over the place. The wind gusts were 30-55 mph. That deep wheel on the front, along with my vertical, aero water bottle, made me a kite in the wind.
Just before approaching the descent it started to hail.
Really?!?!
I was scared of losing control. I usually take that descent close to 50 mph and embrace the sheer thrill and exhilaration. But I crawled down that 7- mile stretch, braking the entire way, squeezing the frame with my legs, and trying to keep as much weight as I could over the front of my bike. Usually I keep my weight in the back, but I found that I maintained better control in the wind with more weight on the front.
After the descent, the course changed direction and I was out of the crosswinds. I settled into a comfortable pace, happy to only have to contend with that nasty-ass head wind. I held back my power as planned, intending to save it for the second loop. I believe I did a good job of fueling and hydrating for the first 40 miles. I was grabbing food at aid stations while on the bike (something I've never done before). I felt so good out there!
And then the crash.
Somewhere around mile 40, near the end of the Hassleton out-and-back (just before getting back on Rt 86) I rolled past an aid station. Was not intending to stop, but I had slowed my pace to about 15 mph as I always do for safety when strolling past an aid station. Another cyclist passed me on the left, then cut back over, hitting my front wheel in the process. I knew I was going down and tried to unclip to stop the fall, but couldn't. I must have put my right hand down, not wanting to land on my already injured shoulder. Immediate searing pain shot from my wrist into my forearm and elbow.
Volunteers couldn't get my feet unclipped from the bike so they got my feet out of my shoes and helped me to a chair.
I thought my arm was broken. The pain was pretty intense, especially if I moved my fingers or wrist. Medics were called. It took almost half an hour for them to arrive. While waiting, I learned that my bike was unharmed (yah!). My forearm and wrist swelled up. I quickly reviewed my "acceptable reasons to quit" as specified in my pre-race plan and concluded that: 1. my bike wasn't totaled; 2. I was hurt, but all my body parts were still attached (no traumatic amputation); and, 3. my injury was not so severe as to completely impede my ability to bike. Therefore, I must go on!
Medics finally arrived and evaluated, and wanted to pull me off the course and take me to the hospital for an x-ray. No way! The pain was bad but I fought back the tears and assured them it was fine, just a little banged up and that I was going to keep going.
The conversation went something like this:
Medic 1: we really should get you to a hospital to have an x-ray. It looks like you may have a fracture. I don't see how you're going to be able to safely operate your bike.
Me: you are not pulling me off this course. Got it? My arm is fine. It feels better already. It's sore but I can ride just fine.
Medic 2: Wow. She's tough. Write down her number so we can see if she finishes
Me: You don't get it. I'm finishing!
Medics cut off my red wrist band (the one to give to your favorite volunteer) because of the swelling, so I gave the aid station volunteers the cut band and told them to share it. Volunteers helped my get back on my bike and off I went.
The rest of the ride was excruciating.
I kept my injured arm on top of the aero bar, and left handon the hood. I was not able to move my fingers to shift on the right, so I shifted mostly on the left. Without two hands on the bike, I wasn't able to change positions on my seat and ended up with some pretty gnarly sores. My glute and hip were starting to hurt with each stroke of the pedal. It took every ounce of mental toughness to get through that ride. By mile 100 I'd had enough and nearly called it quits. But I kept thinking about my friend, Dorje, who died climbing on Everest with me. I could hear his gentle voice coaxing me, "just one more step…breathe…one more step…breathe". Those last 12 miles were the hardest biking miles of my life.
I was not able to take in much nutrition after the fall. I started stopping at aid stations to eat a piece of banana or something, but I was not taking in the 300 kcals per hour in accordance with my plan. I could not eat on the bike with my injury. But I got a lot in during my first 40 miles and I think that sustained me.
I had intended to ride the second loop faster and stronger than the first. And I could have because my legs were primed and ready for it. And the weather had improved significantly on the second loop. The first 11 laps (55 miles) my NP was 163. The second 11 laps my NP was 159, even though I'd hoped to yield a 170 NP for the 2nd lap. All things considered, I'm pretty pleased with my time and effort under the circumstances. I stayed strong.
Oh, and I got to ride behind Heather Jackson and her escort for about 20 seconds on Northwood just before turning back onto Mirror Lake Drive. That was very cool!
T2
After changing into a dry top, I made my way to the medical tent for some more ice. Thankfully, I had stuffed another half of a jelly sandwich into my run bag and I ate it while on the way to the tent. At the med tent, I had to go through another song and dance about going to the hospital. As luck would have it, the medical captain was also a triathlete, and she totally got it. She applied an ice bag, wrapped my arm in a bandage and told me to keep my hand above my heart during the run. Then she escorted me back to the changing tent so I could make my way onto the run course.
STAY TUNED FOR PART 2 and find out what happened next!
This is a two part report.  Be sure to check out part 2!