In this example of what it takes to cross that finish line of your first Ironman Liz has shared her story for us.  In Part 1, we heard about the pre-race details, the breakthrough swim and the crazy bike crash that didn't prevent her from making it to T2.
This is part 2.  For part 1 click here!
Run
I started jogging down the hill and every time my feet hit the pavement it jarred my arm and was extremely painful. So I jogged a little, and walked a lot. Stopped at the med tent on River Rd formore ice.
The captain there put my arm in a splint for me. OMG! So much better once it was immobilized. It was still painful, but I no longer thought I was going to pass out from pain.
The relentless pursuit of forward!
I couldn't control the pain, but I could control my response to it. I focused on people: spectators and athletes. I made eye contact and smiled. I thanked volunteers throughout the course. I focused on the beauty on River Rd., especially on the second loop, after dark. The moon was out and it was incredibly beautiful. I focused on feeling gratitude instead of the pain. I thought about my kids waiting for me at the finish, my coach, my partner, and all my friends who have been there for me in so many ways.
But somewhere between miles 14-16 I started to feel angry.
At first I was pissed that the stupid accident stripped me of the race I could have had. I didn't know at the time what my times were, but I was pretty sure I could have pulled off a 14 hour IM if I hadn't had to sit for 40 minutes with medical and then bike with one arm. And, if I'd been able to run. Then I started thinking that I was fooling myself, that I'd still be walking the marathon even if I hadn't gotten hurt… blah blah blah. Then I started getting pissed, really pissed, at my friend Dorje for dying on me (like he chose to get wiped out by an avalanche). I started spiraling down into that dark, twisted rabbit hole.
The spectators were so incredibly supportive and helped me push through.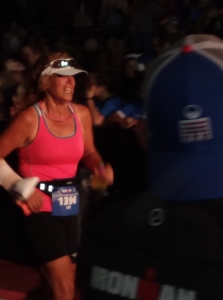 But one woman was amazing and she'll never really know how instrumental she was in fueling my perseverance.  About the time I was ready to yell "uncle", she walked out onto the course with me and asked my name. Then she said, "You're amazing. You don't stop, ok? You're gonna make it. You are going to be an Ironman. You come right back here to me. I'll be here waiting for you." It's like she snapped me out of a tough place. (No, she wasn't there when I got back, but it got me back there).
So I said to myself, "get your ass off the pity potty and pull your shit together." I started focusing on other people again: talking to other athletes; jogging along side them when they resumed running; walking faster; encouraging people who were struggling; finding some compliment to give to about every 5th person I encountered. Eventually, I made my way out of the darkness.
By the time I got off River Rd. I was getting tired and just wanted this race to be over.
I was trying to do math (always a challenge even when I'm fresh as a daisy) and figure out if I'd make the cutoff based on the pace I was keeping. But I couldn't do it. It was like I completely lost my ability to engage my cognitive processes. The pain was starting to consume me and I couldn't focus on anything else. And the more you focus on pain, the more it hurts! I was feeling sick to my stomach and my feet were sore. I was not able to take in any more gels or food. I drank the coke, licked some pretzels, and the chicken broth when it was available. I still can't believe how incredibly good that broth tasted to me. Prior to the race, the thought of drinking broth on the course made me want to gag. But it truly was amazing!
Finish
That last stretch down Mirror Lake Drive was amazing! Seeing my kids, partner, coach and friends cheering me thru those last couple of miles was just the miracle drug I needed.
By the time I entered the oval to run that victory lap, I was still a hurting unit, but my legs felt strong. And all I really remember after that is hearing Coach Kelly screaming, "go get it, girl…go get it!"
Then, looking up and seeing my kids who were exploding with love and pride. Then I heard Mike Reilly shout out, "Liz Manfredi -You are an Ironman." I can not
articulate what those final moments were like except to say I was completely overcome with emotion.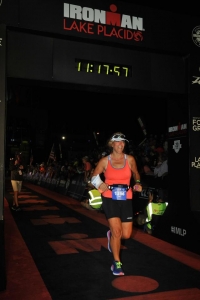 Post Race
I was elated for a while after. I knew I should eat something but I was so sick to my stomach that I knew I'd throw it up. We went to the Pub and I took a couple sips of beer but that was all I could manage. When I stood up to leave, I had a hard time walking. Weirdest thing ever! Felt like I has altitude sickness. I was off balance, but not really dizzy. Had a hard time walking even though my legs didn't hurt. I'm thinking I got dehydrated and undernourished on the course.
Got back to my motel, showered, and started gagging and dry heaving. There wasn't anything in my stomach. I passed out cold when I crawled into bed. I don't think I changed positions all night.