Ironman is where you find yourself and realize what you are made of.  Here is my Ironman Louisville Race Report
Pre-Race….
I implemented my "no negative talk" window and refused to allow doubt to be expressed.  It was all positive talk every day.   The body follows the mind.  I needed my mind to believe I could succeed if I was going to do the race!  I went in confident believing experience, heart and a long season (and lucky bike drop off Cheetah Pants) before my chaotic Lou prep would carry me through.  I wrote out all the reasons I would succeed rather than focusing on what I had not done in prep…
You see, I had overextended myself with responsibilities during this training block.  I also had family things going on so my own training became haphazard.   I was recovering from the wreck at 70.3 Worlds and unable to stay in aero very long as it hurt my elbow bone bruise and road rash.  Nevertheless, I managed to cram in some good training through a triathlon camp held in my town.  Those were hurdles but a lot of the Ironman is a mindset power game…and I made sure my mind was ready to play.

My Bike Mechanical…
I rode by bike during a trainer ride a few days before we had to leave and it was shifting funny yet again after already being serviced.    I lined up a buddy who was willing to help me on site in Lou (thanks Matt!) and this calmed my nerves.   The night before it was time to leave for our trip however my bike began creaking and grinding on the trainer.  Really bad.  My husband watched me ride.  The drivetrain was swinging from side to side as I pedaled.  He called the tri bike shop here as he was worried it was worse than we thought.   They had us bring it over and discovered that the bottom bracket bearings had worn out completely.  She's been serviced regularly but somehow this fell apart at a bad time as it was difficult to detect and pinpoint.  They would need her overnight so we had to delay our start.
Arrival…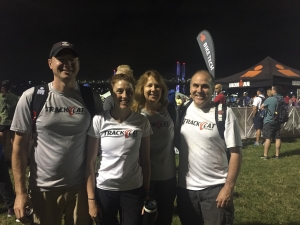 Luckily, they got her ready and Nick & I made the 16 hour drive just in time for packet pick up and to meet the two athletes I coach that were also racing.  Both of them had amazing race stories as well, by the way!  Alex finished his first Ironman with a marathon PR 36 minutes faster than his stand alone marathon time!  K wrote hers on her blog!  Bonus…my parents surprised us and made it to the race!
Swim (Wetsuit) Mechanical…
They offered self seeding by time rather than a first come first serve start line of years past which meant everyone seemed more relaxed getting ready.  My buddy Sarah spotted me and I didn't know she was coming so seeing her was a huge pick me up!  I made my way towards the front to line up.
My swimming has improved a lot.  I just LOVE swimming at the Swimming Hole.  There are always open lanes, the pool is clean and ideal temperature every day.  This means I swim more and my swim fitness has been higher than ever.  I also had a brand new fancy wetsuit I found on sale 2 weeks prior and was set to PR this baby.
Of course, as luck would have it my freaking wetsuit SPLIT at the seams just minutes before the start while we were in line.  Fellow competitors laughed with me as I fretted and shared their ideas, duct tape and safety pins from their chip strap to help Nick put me together just in time.
Soon I forced myself to forget about this snafu and move on.  We were all plunging into the river.

Not for the Squeamish…
This year the chop was bad though and I couldn't get a draft off anyone's feet as it was difficult for me to deal with the chop.    I am tough in these conditions normally but this time I  felt nausea and puked a little bit in the water but continued to fight through.  I wasn't phased mentally.  Then, I really had to pee.  I went in my suit and that process took forever as I still haven't managed to kick and pee…and I am not about to start practicing in the pool!  I wasn't able to swim during this and was kind of floating awkwardly.  Ridiculous.  Yet hilarious.   I p1ssed away a swim PR (haha) by less than one minute and I had expected much faster. I was in and out of T1 quickly.
The Bike…
I immediately noticed that my elbow still hadn't healed enough for the aero position.  I was really hoping for a miracle but instead decided to suck it up, deal with the pain and push through it.  Shut up, elbow was my new motto.
I used the first 40 miles as my warm up.   I planned to bring it home harder as that worked well for me the last year.  I made my way through the course.  It was windy and hot.  A bee stung me.  I've been stung by a bee 4x in my life.  3 of those times have been during triathlons so it must be the sugar water soaks I get from my bike bottles!
I was intent on not getting caught up in any annoying draft groups or dealing with the surge and coast boys on the course.  I let draft pack pelotons go by but when I approach a slower group, I would brake and hang back trying to find a good time to put in a redline effort to make it past them with out getting caught up in the nonsense.
I was so focused on navigating past blockers to keep myself riding fair that I never saw my family on the bike course.   More funny, I never saw a strip of spectators dressed up as half naked speedo pirates.  I was too busy screaming at the guys in front of me, "Ride to the right!  Let me by! MOVE!"  I was able to get through them but when I saw the pictures my family took I was shocked that I never noticed the half nude bizarre crowd scene…on either loop.  Here is a picture with me (not in aero- stupid elbow!) and my parents on one side and half naked pirates ahead.  I do remember this strip as I recall I approached and passed that draft pack near tents and a crowd.   You can kind of see the back of in the photo near the 2nd tent.  No wonder they were going slow here.   A lot of distractions to those who do not hyper-focus at times.  I never saw the pirates!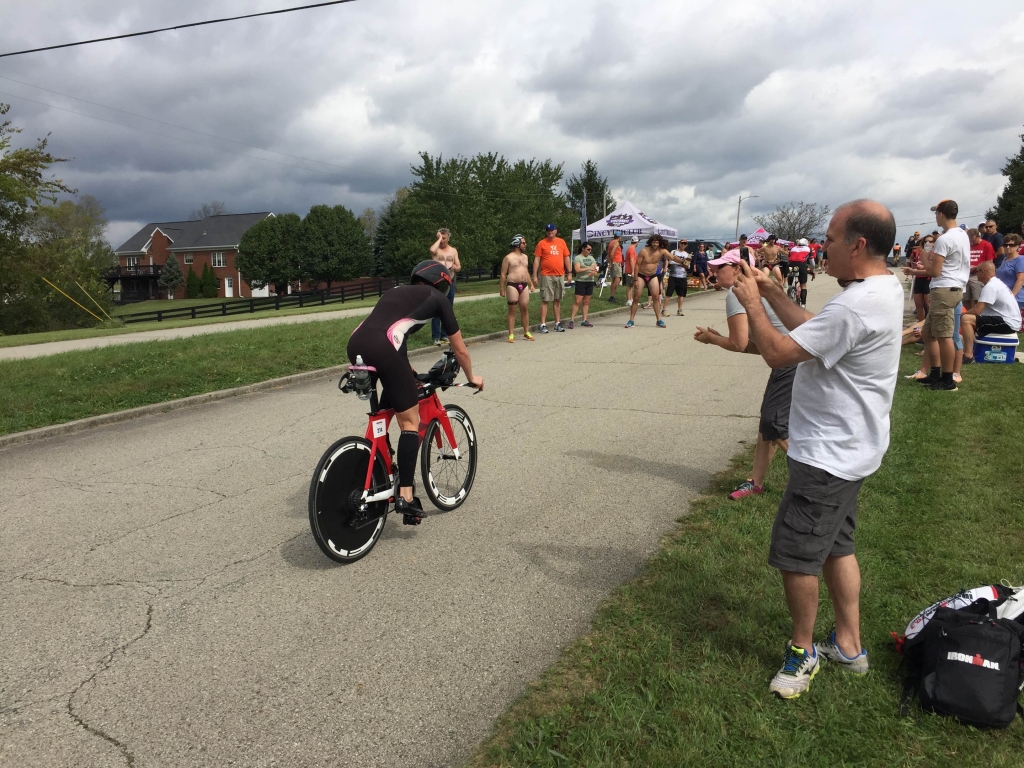 The Storm…
Halfway through the ride the sky darkened.  The wind picked up.  It looked like a scene straight out of Twister!
I was happy it cooled off and the rain felt good at first despite the rough winds.  Until I was battling the strongest cross winds I have ever faced on the bike.  This was the first time I have regretted riding a disc.  A guy blew OFF his bike.  It was that bad.  A row of porta potties were knocked down.  It was dangerous and raining.  I felt cold.
I balanced the pain of being in aero (with my elbow worsening) to dip through the winds and coming upright to balance around wet leaves, through rolling crab apples blown off the trees and making things dangerous for us.  I was hit by an apple!  No joke!
Last year the final 20 miles for me were my fastest as I hammered it home but this year I was riding upright with the elbow issue,  fighting strong winds and didn't get to make good time.  My split was nowhere near my potential but I was committed to executing a strong race and paced it consistently if not to my plan or potential.
Here is what my elbow looked like the day after the race.  To protect the bruise and still-healing road rash, my elbow formed a blister.  No wonder it hurt when I tried to ride on it!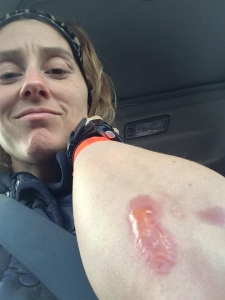 The Run…
I believe the cognitive demands of the stressful bike ride took more out of me than I realized because  I was tired from the start of the run so I paced it very conservatively.   My right glute was also very sore…but I pushed through.   I suspect not being in aero much the past few weeks may have contributed to this as I haven't had issues leading in.  My time goals were totally out the window but this race was different.  It didn't matter.  I simply did everything I could in the moment I was in to put together the best day I could.  I still wanted to have my best day possible even if it wouldn't be my greatest race on record.
Every obstacle I navigated through made me stronger.  I fed off overcoming each challenge and determining how I could have my best day possible given what I had on this day.  I never once dialed back in defeat.  I never gave up.  I never made stupid choices in an effort to chase some arbitrary time goal.  I was strong.  I immersed myself in the energy of the race while I battled my own struggle.
Oh, one high point was as I was headed out for lap two, I saw a man holding a sign as a female athlete approached about to finish her race.  It said her name and "I Love you.  Will you Marry Me?!"  I still get teary eyed thinking about how LUCKY I was to witness a real live wedding line finish proposal.  THAT was a huge boost.  That is part of our sport!  I love the Ironman!  The stories of the race as we all come together.
The emotional high was fleeting though.  I was hurting and I talked to myself, out loud with tears streaming down my face at some parts of  lap two.  I saw familiar faces and they gave me encouragement.  Sometimes I didn't see my friends as we passed one another.  It simply did not register as I was in my own world of hurt.  It was a mental battle and I was constantly willing myself forward but I did it.  I didn't let up and that is what this is all about.  It is about digging deep.  Problem solving.  Knowing you are more capable than you thought.
The Finish Line…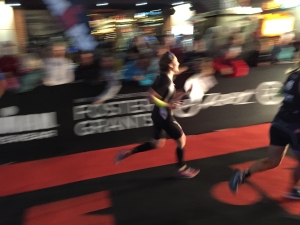 In the final stages of the race, I was so excited and relieved to reach that finish line.  Cue the elated feeling with Chariots of Fire playing in my mind and crowded streets of screaming wild spectators…the beauty of those final steps…and then…
Another runner turned to the side and he spit.  The wind carried it to my cheek.  Well, that about sums up my day!
Then, instead of a normal finish, a guy started to sprint…challenging me….similar to what had happened at IMLP this year.
I could not believe it.  Oh, no pal, I am not getting passed in this finish chute after all I have been through! I darted him a look that said it all.
I hustled and he wasn't able to match my steps.   Nobody should have been able to… I ran that last little stretch at 6:50 pace for 40 seconds.  That is not normal!  It is amazing how much energy I still had in reserve when I felt like I needed it.
I crossed that line and I was full of emotion.  The finish line never gets old!  I was out there for 11:39 this time.  However,  I was steady and gained position the entire day even though I felt like I was having a rough go.
It is not my fastest time.  It is however, a race I will always be proud of.  I fought hard and I never gave in.  This is what Ironman is all about.  The community, the lessons and uncovering what is there when you need to dig deep.
My mother, father and husband were all there at the end to help me process everything and we celebrated with lots of food on Fourth Street Live!