I been have part of many a triathlon training camp over the years.  These opportunities all have one thing in common.   Athletes always come out of the triathlon camp as stronger, smarter and better athletes primed for breakthrough performances. That is why I am so excited about offering this summer's camp in the amazing mountains of gorgeous Stowe, VT.
You will amaze yourself and become stronger!
Ever Racing Triathlon "Glamping" Adventure Stowe, VT
July 27th – July 30th
Triathlon Training Camp is an opportunity to work with a coach in person, challenge yourself in new terrain and to truly focus on improving your fitness and technique while having fun adventures!
The mountain views in Stowe, Vermont are absolutely beautiful!  So why not enjoy actually camping at camp?  Of course, that might be a bit excessive for some so we are offering camping outside of a ski chalet with BOTH indoor and outdoor sleeping options and modern day plumbing (AKA Glamping)!
Contact me at Kelly@everracing.com for more information!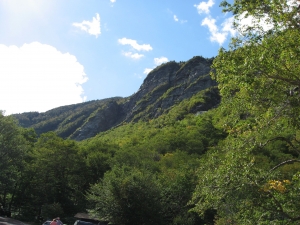 The Details on this Triathlon Training Camp (Glamping!) Adventure:
Coached weekend getaway to improve triathlon technique and skills while building fitness. The stunning beauty of the Vermont mountains will be your backdrop.
Climb world famous Smuggler's Notch, swim in crystal clear lakes and run gorgeous trails and roads. All key sessions are coached and SAG supported!
Relax with meals provided. Recover with training tales and mind power coaching by camp fire. Visit Ben & Jerry's! Enjoy New England mountains in the summer.
This coach supported adventure will teach, push, shape and change you as an athlete!
Pre and Post Camp 1:1 calls w/ coach to discuss your specific needs and training! Limited number of athletes for optimal coaching and customization.
Camp outside amongst the stars in tents for a special adventure or enjoy indoor shelter in a ski chalet on any evening. Modern amenities available for either option!
$375 for the weekend package.
Camp begins at 6pm 7/27 and ends at noon 7/30. Athletes of all paces & distance focus welcome!
Must be able to ride 3 hours, swim in open water and run 45 minutes. 6 week.  Nervous? A  "Camp Prep Plan" is available as needed to prepare you to handle the volume and conditions for the weekend.  Just let us know!