This weekend brave athletes traversed the steep mountains and splashed into crisp clear lakes of Vermont for Triathlon Camp with Ever Racing.
Camaraderie, coaching, superior SAG support and the vibrant New England backdrop pulled everyone through.  We became stronger, met challenges, set personal records and met milestones.  It was a blast to coach these athletes through the camp experience.
No blog post can truly capture the strong supportive vibe and fun-hard-work that is the essence of Track Cat Triathlon Camp .  Each athlete embodied the Track Cat Values, handling the camp with grit and grace while supporting one another.
Nevertheless, here is the run down.
Day 1  Meet and Greet
Rain came strong as athletes trickled in from the midwest, southeast and a few from the other side of Vermont.  The campfire meet and greet was held indoors but that led to an informal "get aquatinted" evening of grilled meats, veggies and fun as athletes prepped for the weekend in store!
Day 2  The Big Day!  Part 1…Smuggler's Notch  
Luckily, the rain faded by morning and never returned to our Vermont triathlon camp.  Sunny ideal days were on tap….and so were some local brews for post mountain climbing!   Huge thanks to  Amy who allowed the use of her vehicle for the SAG drivers!
Everyone pedaled to world famous Smuggler's Notch climb enjoying the hills and classic New England scenery.  Views distracted from the exertion of the challenging terrain leading to the climb.  The campers nicknamed this notch but I won't divulge their true creative energy here!
We overcame doubt, celebrated and had a blast cheering for one another and other "random" cyclists.  This is typical of Track Cat Crew who naturally love to support everyone along the way.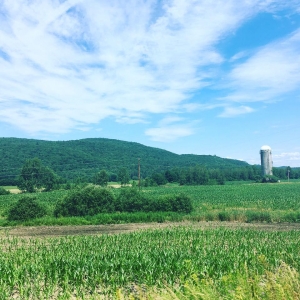 I spent time on wheels with each athlete observing their cycling habits.  Position on the bike, use of aerobars, gear shifting and pacing up and down the hills efficiently and cornering are a few things I watched.    New tactics and ideas will be incorporated in training programs for those that I coach through our Focus or Ultimate plans.
Day 2 Part 2…OWS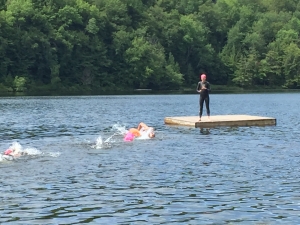 We planned to ride to Morrisville where half the group would run the rail trail or grab coffee with SAG and then make the quick drive from there to the lake.  Others were going to ride their bikes from Morrisville past the swimming lake and back to get in 5 hours.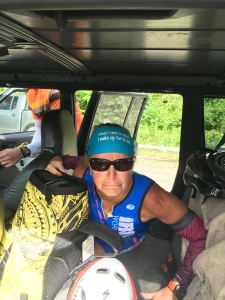 When a few unexpected hurdles arose our flexible campers decided to skip the rail train run along the way and head to the lake.
At the beach (with no motor boat traffic allowed…score!) athletes ran on dirt roads nearby and picnicked.  Others joined the SAG team enthusiastically supporting our valiant 5 hour riders.
Once regrouped in the lake, campers nailed the mass wave start simulations.  They drafted, swam with out goggles and got in sighting work.  I also took a look at their form.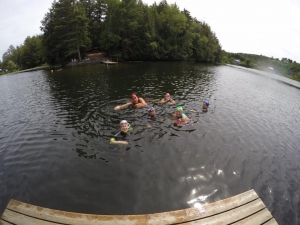 Dinner back home was served quickly thanks to Diane & Dave.   We enjoyed an amazing pasta dinner, with salad, chicken, shrimp skewers, breads and lots of exciting stories and tales from the day.
Day 3: The App Gap!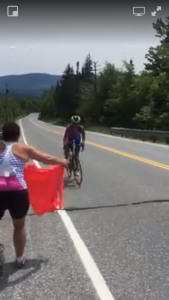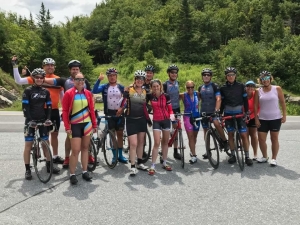 Before the climb the Track Cat Camp Crew hopped into the Waterbury Reservoir for a kayak supported swim.  The sun came out, the fog broke and soon we were rolling.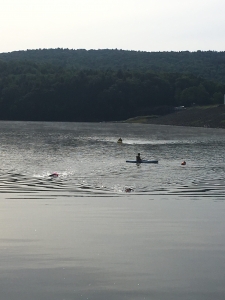 One athlete had a serious mechanical.  Luckily, Fit Werx was on our route.  They had her up and running in time to traverse the mountain with the crew.
App Gap rewards those who patiently grind up the ever winding ascent with gorgeous views at the top.   Perhaps the athletes wanted to kick me for pushing them through two mountains in two days.  I designed tough routes unlike anything they will face on race day.   However, they discovered they were capable of more than they ever thought possible!  Hello PRs!
We picnicked with more "real" food and shared in cheering on another team.  I have some amazing and hilarious video footage that is a bit too "rowdy" for a public blog post.   "Mike" will never forget the Gap as we all chanted his name and willed him up to the top!
Triathlon Camp Coffee
Our plan was to ride back down to Waterbury but after so much cycling and adventure everybody pushed for an early coffee break.  Most of the return ride would have been a fast descent with limited fitness benefit I ok'ed the early departure.  Half the riders took the fast descent down the gap for an adrenaline rush.  Then, we loaded up and took vehicles to the ole train station home of Green Mountain Coffee Waterbury to relax.   Don't judge!  There is a study to support all of this triathlon camp coffee consumption!  See, I'm an evidence based coach! 🙂
Day 3 Down Time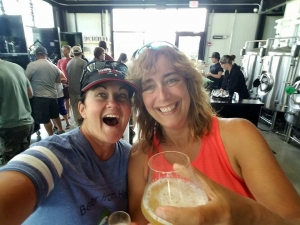 We ensured everyone got exactly what they were looking for from camp by scheduling flexible options for the afternoon.  A few ran & took power naps, some did a brewery tour and a couple hiked up to the top of Pinnacle Mountain for panoramic views.
Learning by Triathlon Camp Campfire
That evening our high energy and wealth of knowledge camper, Carol, led a talk on injury prevention.  She even brought foot and knee models to aid the talk and readily fielded lots of questions from our group.  From there we continued the chat and the fun over s'mores by the camp fire.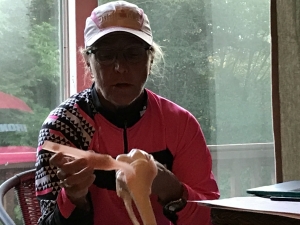 Day 4 Stowe Recreation Path
The last day was a long run on a beautiful paved path with 10 bridges over a babbling brook to top off the triathlon camp adventures.   Campers received video captured and review of technique.
Although the triathlon camp athletes were social and smiling, their response to coached feedback was less engaged than in the first few days.   As a coach, I realized they would get more from the day if they were left to "enjoy" the last run and have a carefree experience.
I stealthily ran behind the athletes observing their running and  manned our water stop by the covered bridge.
From here, we regrouped at Black Cap Coffee.  Triathletes strongly protested against zipping back to the camp in SAG to pack with enough time to set out for Ben & Jerry's as a group. Camp requires  flexibility.   So, we sat outside and concluded camp by relaxing with coffee in our quaint mountain town.   Campers sent good race day vibes across the country to fellow Track Cat Crew athletes racing that I was tracking  by mobile app.  🙂
Wrap Up
Training Camp allows athletes to focus solely on training and learning.  It is an environment to push past perceived limitations, discover what is possible both physically and mentally, gain a significant fitness boost.  It is done while having fun and seeing new sights.
I gave each athlete a written overview of observations in each discipline after the camp concluded.  It is hard to absorb coach feedback during the actual camp.  A written review gives athletes a tangible reference to process later.
Future Triathlon Camps
We created this triathlon camp to be affordable, fun and meaningful.
Amenities were functional with a family style home setting rather than "luxury."  We emphasized coaching, SAG support, challenging yet beautiful routes and delicious nutritious home cooked meals.
We asked for feedback on the camp and are exploring  ideas and options for future camps.  We are considering both luxury and budget camps all while maintaining strong support, a healthy environment and quality coaching.
If you want to attend the triathlon camp challenge yourself or  have suggestions or ideas that you would love to see please email me at Kelly@everracing.com.